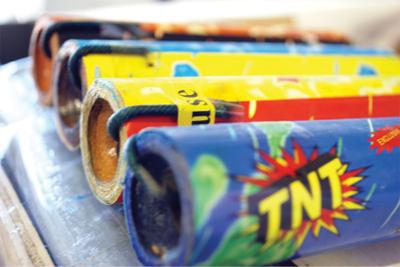 Bell County officials are looking into whether rain showers Sunday and Monday will impact the drought enough to lift the countywide fireworks ban.
More than an inch of rain was recorded in some parts of Bell County Sunday and Monday, according to the National Weather Service in Fort Worth.
According to the U.S. Drought Monitor, much of the area is experiencing "moderate" to "exceptional" drought conditions.
In a call to Bell County Judge David Blackburn's office early Tuesday, he said he was currently reviewing weather information he had received and that a press release to address this concern would be forthcoming.
"Some locations in Bell County received as much as 1.5 inches of rain as of Tuesday morning," National Weather Service meteorologist Sarah Barnes said Tuesday.
"The moisture Bell County received was due, in part, to a disturbance in the Gulf of Mexico. Combined with southerly winds and a low pressure system moving in, the area could see additional rainfall in the next 24 hours."
"There may be another chance for rain Friday into Saturday," Barnes said. "But it's a little too early to tell."
In his original address from the courthouse Wednesday, Blackburn explained that part of his decision to ban fireworks was due to the county's Keech Byrum Drought Index.
According to the Texas A&M-Forest Service KBDI report on Monday, Bell County's numbers are somewhere between 616 and 694. Index numbers in the 600 to 800 range are often associated with more severe drought with increased wildfire occurrence. Intense, deep-burning fires with extreme intensities can be expected. Live fuels can also be expected to burn actively at these levels, according to the real-time drought assessment system at TAMU found on their website http://twc.tamu.edu/kbdi.
The Herald will update this information as it becomes available.
Larry Mitchell, ABR, CRS, GRI
Texas Realtor, Broker Associate
Chris Mitchell, Texas Realtor®
ERA Colonial Real Estate
Harker Heights, Texas
LMSells@aol.com
Larry Mitchell – 254 6815115
Chris Mitchell – 254 291 2832