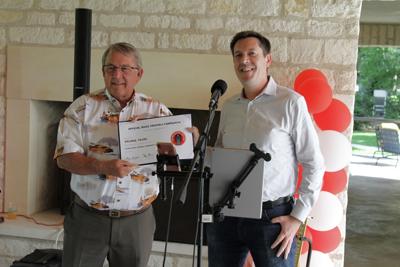 Harker Heights is the latest "Music Friendly Community" in Bell County.
The Harker Heights Chamber of Commerce & Visitor's Center announced Tuesday that the city has been awarded the designation by Gov. Greg Abbott's office.
A celebration for the designation will occur 6-8 p.m. July 22 at Carl Levin Park, 400 Millers Crossing, Harker Heights.
Salado officials celebrated the village's designation as a "Music Friendly Community" — the first in Bell County – on June 14.
The designation by the Texas Music Office seeks to foster music-related economic development. Gov. Greg Abbott recently announced the designation.
Stacey Ybarra, assistant village administrator for Salado, will also take the role of liaison between the Texas Music Office and the village to coordinate musical efforts.
"We're trying to get music businesses here," she said. "Musicians, songwriters, and the music industry can start mingling and connecting to grow the music community in Salado. Salado is known for being a quaint, charming community as well as a music-friendly community."
Larry MItchell, ABR, CRS, GRI
Texas Realtor®, Broker Associate
Chris Mitchell
Texas Realtor®
ERA Colonial Real Estate
Harker Heights, Texas
LMSells@aol.com
Larry Mitchell – 254 681 5115
Chris Mitchell – 254 291 2832