By Bob Maindelle | Herald correspondent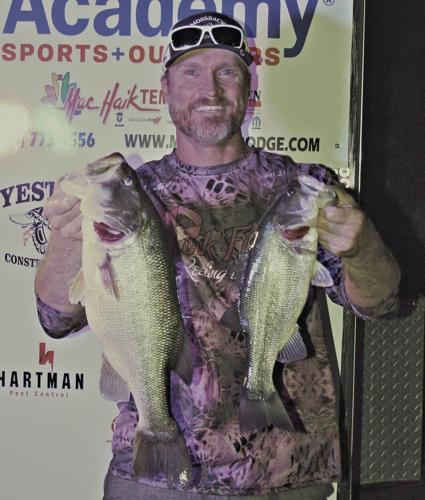 A convection oven — that is what Tuesday evening's 3X9 Series bass tournament conditions felt like to the participants, at least until the sun went down.
Hot, dry winds blew relentlessly during the early part of this week, further warming the already prematurely warm water on Stillhouse Hollow Lake. The reservoir, which spans over 6,400 acres when full, is dropping at a rate of approximately 0.05 feet per day and is currently more than five feet low.
The surface temperature is now approximately 84F. As the hydrilla grows toward the surface and the water level drops, more and more matted vegetation is appearing throughout the reservoir each day.
Despite the tough conditions, 43 teams competed in this weekly event held from March to September. The two-angler teams launch from the Stillhouse Hollow Marina and attempt to capture the heaviest three-fish limit they can in the event's allotted three-hour time span.
This week, the father-and-son team of Earl and Todd Loggains rose to the top.
According to Todd Loggains, "It was really windy, so it took a lot of patience to not only cast but feel the bite. We boated all of our keepers within a 30- to 40-minute window on a grass line that was holding multiple fish! We missed a few but my dad didn't miss the big one!"
The men's three-fish limit weighed 13.72 pounds and included the tournament's single heaviest bass captured. That outsized fish weighed in at 6.87 pounds. The men took home a check for $1,080 for the first-place finish.
Second place was awarded to the team of Randy Fleeman and Chris Miller, whose three-fish limit weighed 11.50 pounds and earned them $280.
Third place went to Scott Lutgens and Shawn Walsh. Their three-fish limit weighed 10.75 pounds and earned $180.
Last week's victors, Daniel and Tanner Barnes, competed, but did not bring in any fish to be weighed.
There was a total of 93 fish brought to the scales. The cumulative weight of those fish was 236.15 pounds, thus yielding an average per-fish weight of 2.54 pounds. All but one of the fish were reported to be released.
Those interested in fishing this tournament series may contact Dean Thompson at Tightlines Premium Fishing Tackle in Killeen at 254-690-3474.
Larry Mitchell, ABR, CRS, GRI
Texas Realtor®, Broker Associate
Chris Mitchell, Texas Realtor®
ERA Colonial Real Estate
Harker Heights, Texas
LMSells@aol.com
Larry Mitchell – 254 681 5115
Chris Mitchell – 254 291 2832