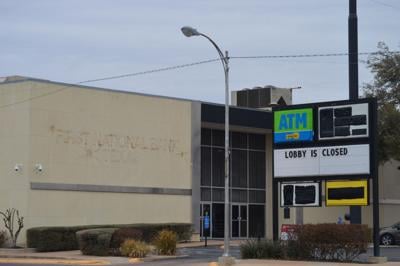 It's almost official: The site of the old First National Bank Texas headquarters at 507 N. Gray St. likely will be demolished within the next 12 months to make way for what will be a newly relocated Bell County annex.
Prior to Tuesday's workshop, there was some question as to whether the annex would be renovated or demolished, with a large sticking point being the Historic Overlay District; according to city staff, Killeen's decision to demolish the site may put Killeen downtown's historic designation at risk.
However, speaking on the issue in April, city staff pointed out that Killeen had received a total of $27,000 in grants for its historic designation, and has not received any funding through the designation since 2013.
As of Tuesday, the City Council spoke in favor of approving the agreement; once formally approved during the next City Council meeting, Killeen will send out for bids to demolish the site.
In total, the city has pledged no more than $300,000 for the demolition of 507 N. Gray St., with the option to back out of the agreement if project costs exceed expectations.
In return, the county has pledged $10 million for the construction and design of a new 30,000-square-foot county annex, which will replace the one at 307 Priest Drive.
In response to a question from Councilman Michael Boyd, Assistant Manager Danielle Singh confirmed that the new annex will be required to conform to the city's recent commercial architectural standards ordinance.
Killeen City Council members have largely expressed an interest in facilitating the construction of the annex with the hope that it may bring greater traffic to downtown Killeen, though some members have previously voiced a concern that Killeen may lose a piece of its identity, and history in the process.
The matter will be formally voted on during the next City Council meeting.
jdowling@kdhnews.com | 254-501-7552
Larry Mitchell, ABR, CRS, GRI
Texas Realtor®, Broker Associate
ERA Colonial Real Estate
254 681 5115
Chris Mitchell
254 291 2832