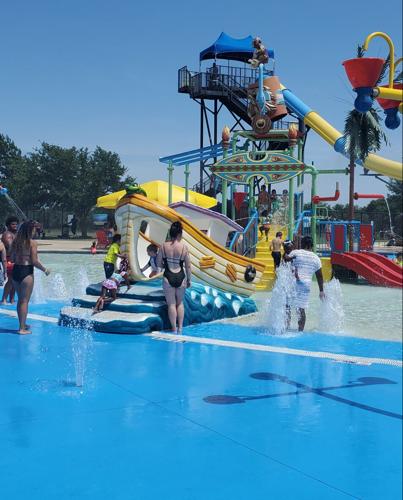 "My kids just had to get to the pool," Ashley Green-Smith said Sunday as her family splashed in the water at Carl Levin Park pool in Harker Heights. Many area residents may be thinking along those same lines as temperatures neared the 100-degree mark over the weekend.
Families at Carl Levin Park and at the Family Aquatics Center at Lions Club Park in Killeen showed up to cool-off in the aqua blue water Sunday. Smaller-than-usual teams of lifeguards and pool staff greeted visitors with a smile and a welcome. "This is a fun job and I like what I do," said Doug Sauer, manager at Carl Levin Pool. "As long as folks are enjoying the pool and behaving themselves, the families I meet have a great time."
For anyone interested in going to the Harker Heights pool this summer, there will be a wait list posted at the pool when the legal limit for patrons is reached. The limit is 25 patrons per lifeguard and usually there are at least four guards on duty at any one time. Sauer says the wait is usually never longer than 15-20 minutes.
This is not the case at the Family Aquatics Center. Pool manager Claryce Free said most days the water park reaches capacity about 30 minutes after opening.
Officials for both Harker Heights and the City of Killeen have been on a mission to recruit more trained staff to accommodate the anticipated crowds. There are active recruiting campaigns going on via social media.
Both parks clear the pool for 15 minutes every hour to allow patrons a chance to refresh, use the facilities and dry off. But when the whistle sounds at the top of the hour, the splashing begins again.
"They all love the different water areas," Green-Smith said. Her son Donavan, 9, helped his younger siblings enjoy the splashpad at Carl Levin Park. "Adrianne is 3, Allison is 4 and Ryan is 7."
Green-Smith and her husband Johnathon Smith are hands-on when it comes to safety.
"You never know what they'll get into," she said.
In the shallows at the Aquatic Park, Anna Condor waited patiently as her 2-year-old waded into the water.
"This is her first time here and she is a little overwhelmed," Condor said. Her daughter Rachel was wide-eyed at the color and splashing around her. "I'm so grateful to the city for making something like this available to families."
Both pools are closed on Mondays and Tuesdays. The Family Aquatics Center is open Wednesday through Friday from 11 a.m. to 5 p.m., Saturdays from 10 a.m. to 6:30 p.m. and Sundays from 1 to 6:30 p.m.
The Carl Levin Park pool is open Wednesday through Friday from 2 to 7 p.m, and Saturdays and Sundays from 11 a.m. to 5 p.m.
For pool rules and additional information see their respective web pages at www.killeentexas.gov or harkerheights.gov.
Larry Mitchell, ABR, CRS, GRI
Texas Realtor®, Broker Associate
ERA Colonial Real Estate
254 681 5115
LMSells@aol.com
Chris Mitchell, Texas Realtor®
254 291 2832