Nonprofit keeps taps Memorial Day tradition alive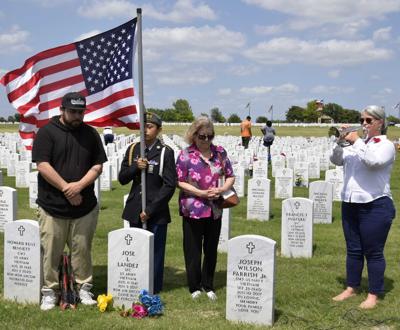 The sounds of brass instruments somberly echoed through the air Monday during an afternoon Memorial Day ceremony at the Central Texas State Veterans Cemetery in Killeen.
The group MecaTX, Multi-Educational Cross Cultural Arts of Central Texas, a nonprofit organization dedicated to educating and spreading awareness of cultural music and dance, gathered to play taps at veterans' graves in honor of their service and sacrifice.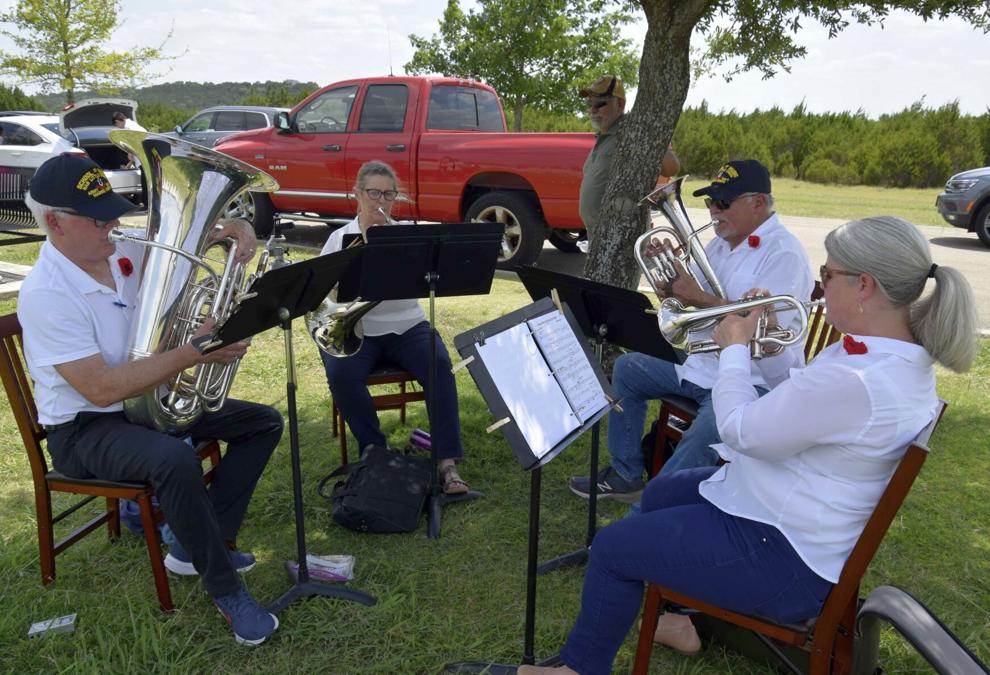 MecaTX leader and retired U.S. Army Col. Daniel Kott, 90, began this year's remembrance at the grave of his friend, and former MecaTX board member, retired Sgt. 1st Class Jose Landez.
"Joe Landez was like me; he was a person who hung in there to the end, he was military and he was a real soldier," Kott said.
Brazos Brass band member Stephanie Munoz, of Waco, played taps on cornet at Landez's grave after Tina Hays, also with Brazos Brass, sang "The Star Spangled Banner."
MecaTX member and new U.S. Army recruit Alyssa Gomez sang "Amor Eterno" in Spanish in memory of Landez.
State Guard Cpt. Arthur Resa said Landez was best known for his guidance, adding that Landez helped him "spread his wings."
"That was a big part of Joe, he was always mentoring," Resa said. "He mentored me. … I probably wouldn't have ventured out without his mentoring and encouragement."
Resa said Landez was particularly interested in recruiting young people to keep MecaTX alive.
"Joe was a big believer in culture, and I am also, so people will know their history, where they came from and where to go," he said. "If you don't know where you come from, you lack pride."
Landez, who died in 2017, was the founder of KRMY Spanish Radio in Killeen and hosted Hispanic Perspectives on KNCT-TV.
Landez's widow, Bertha, and their grandson, Daniel Fernandez, both of Killeen, said they were moved by the tribute to their patriarch.
"It's just very emotional but it's beautiful," Bertha Landez said standing beside her husband's grave. "That's all I can say; It's beautiful for people to remember him.
Larry Mitchell, ABR, CRS, GRI
Texas Realtor®, Broker Associate
ERA Colonial Real Estate
LMSells@Aol.com
254 681 5115
Chris Mitchell, Texas Realtor®
Chris@ChrisMitchell.Realtor®
254 291 2832