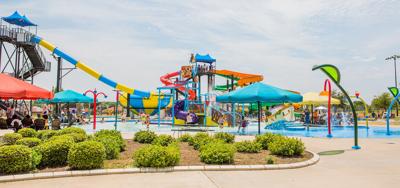 Just in time for cooling off this weekend, Killeen's Family Aquatic Center will open for the Memorial Day weekend. The water park is located in Lion's Club Park at 1800 E. Stan Schlueter Loop.
Pool hours are Saturday from 10 a.m. to 6:30 p.m., Sunday from 1 p.m. to 6:30 p.m. and Monday from 11 a.m. to 5 p.m.
Entrance fees are $6 for children age 4 to 16; $7 for adults 17 to 54; $5 for seniors age 55 and older and children 3 and younger get in free.
There is a $10 fee to bring in a cooler and a limit of one cooler per family. Coolers can be no larger than 19.5 inches by 19.5 inches and must close shut. There is no alcohol or glass permitted and all coolers will be inspected prior to entry. Additional rules apply for patrons at the pool, see the City's website for more information and FAQ.
Some restrictions include: Children between the ages of 13 and 16 must have a youth ID form completed by a parent/legal guardian prior to entering the park unaccompanied. Children who are age 12 and under must be accompanied by a parent or guardian at all times; a brother or sister will not be allowed to bring in a sibling age 12 or under.
Long Branch delayed opening
The Family Aquatic Center will reopen for the full summer season on June 4 and run through Labor Day weekend. Long Branch Pool will have a delayed opening until sometime in July, due to unexpected repairs, city officials said. They did not give a specific date the Long Branch Pool will open.
In a news release from the City of Killeen, "both the aquatic center and the Long Branch pool will operate at 50% capacity to allow our lifeguards to safely and appropriately monitor swimmers."
Communications Director Janell Ford said, "we are looking forward to getting to operate at 100% this season when we have more staffing. We are actively recruiting seasonal hires all summer long."
Seasonal applications for the City of Killeen Recreation Services Aquatics Division are open. Positions include assistant aquatics supervisor, pool manager, water safety instructor, lifeguard and pool cashier. For more information, check out killeentexas.gov/jobs or call 254-501-6390.
Larry Mitchell, ABR, CRS, GRI
Broker Associate, Realtor
ERA Colonial Real Estate
254 681 5115
LMSells@aol.com