By John Clark Herald correspondent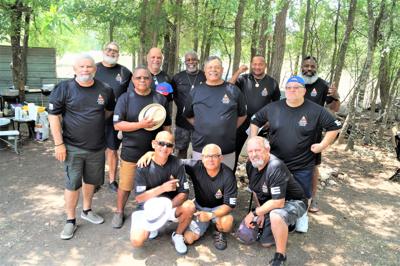 KEMPNER — A dozen old Army buddies who served together 40 years ago in the famed 2nd Armored Division at Fort Hood came together from all across the state and as far away as Puerto Rico last weekend for a reunion in Kempner.
Some of the former "Hell on Wheels" division soldiers have seen each other now and then in recent years, particularly those who went home to Puerto Rico after their military service, but for some of the aging warriors, it was the first time they had laid eyes on each other in four decades.
"I remembered (Juan) Rosado," said Gilberto Almodóvar Jr., a Puerto Rico-born 2nd A.D. infantryman at Fort Hood from 1979-81, who now works for the federal Drug Enforcement Administration in El Paso. "To be honest, the other ones had to introduce themselves back to me.
"When they started telling stories, I remembered."
Others who showed up at retired Sgt. 1st Class Wilfredo Rosario's home not too far from Big Divide Road in Copperas Cove to eat, drink, smoke cigars, and reminisce Saturday afternoon were Flavio Valentin, Albert Erazo, Arnie Ortiz, Agripino Soto, Julio Vizcarrondo, Arturo Maldonado, Apolinar Angulo, Edwin Oquendo, and Carlos Sanchez, as well as a handful of family members and friends.
All gave credit to Rosado for organizing the event. The 61-year-old former mortar man for Charlie Company, 2nd Battalion, 41st Infantry Regiment said he ran into a buddy in Puerto Rico and they got to talking about their old military days. During a friendly get-together a couple years ago, they decided to try and find some more members of their old unit.
Rosado got in touch with a number of them fairly quickly but had to do a little digging before he finally located Almodóvar.
"I found what I thought was his number and I called, but he didn't answer so I left a message," Rosado, an accountant and auditor, said. "I said, 'If you are Almodóvar from Ponce, Puerto Rico (and) if you served in the Army at Fort Hood between '79 and '82, call me."
Almodóvar picks up the story from there:
"I was getting ready to go to work at six in the morning, and the phone rang, but I just left it there. He left me a message, and he gave my name, talked about Fort Hood '79 to '81, Charlie Company, 2-41. I said, 'Wow, this guy knows a lot about me.' So, I called him back.
"I said, 'Of course I'm gonna be there.'"
Rosario said he was delighted to have everyone over to his house.
"Some of the guys stay around here and they'll come by and see me every month or so," the 70-year-old veteran said. "Others, I haven't seen in 42, 43 years.
"Puerto Ricans have a special bond. If you're from Puerto Rico, you protect each other. We fight for each other."
Edwin Oquendo, a Brooklyn, N.Y., native who joined the Army at age 17 and now lives in Puerto Rico, agreed.
"We're family. We're brothers," the 60-year-old said.
Oquendo spent 25 years in the military, including a 1979-83 stint as a mechanized infantryman at Fort Hood. When he wasn't busy training for combat, he enjoyed boxing and martial arts, and once mixed it up with a former Golden Gloves boxer in an impromptu bare knuckles bout. He held his own, but it was also that love for fisticuffs that kept him from earning more than sergeant stripes during his 25-year career.
"I got busted a couple of times for fighting," he said, smiling. "It was like a sport for me."
Talking about what several of the guys called the "brotherhood" they formed as members of the 2nd Battalion, Oquendo's eyes filled with tears and his voice choked with emotion as he told the story of his friend and fellow soldier, Julio Vizcarrondo, searching for the location of the gravesite for his stillborn son in 1982 and going to the cemetery to visit and pay his respects:
"The way we say it is, we have blood family, but we have people that we know who are more like family than blood family."
As expected, the old soldiers had plenty of stories to tell from their days as hard-training and sometimes harder-partying young GIs.
Rosario, who left the Army in 1995 after 24 years' service, remembered the time a new lieutenant arrived at his unit at Fort Hood, and tried a little too hard to impress.
"We used to go to the field, sometimes 30 days at a time," he said. "I was a platoon sergeant, and this lieutenant … he was not too smart. He would say, 'We're going to do this; and we're going to do that.'
"Well, he was scared of everything. He'd say, 'You have snakes around here? You have bees around here?'
"I said, 'Sir, you've got to be careful. Snakes around here are so big, they will drop from a tree and grab you around the neck and choke you.'
"He said, 'Are you crazy?'
"I said, 'No, sir, be careful.'
"So we were out in the field, and I found a water hose about this long (three or four feet); a black water hose just thrown out there in the woods. I picked it up with my rifle and I yelled, 'Snake!' and I threw it up in the air. It landed on his chest. He threw his equipment off and just ran.
"Everyone was laughing. We had to go find him.
"I told him, 'Sir, it was a joke. I'm sorry.'"
Larry Mitchell, Texas Realtor
Broker Associate ABR, CRS, GRi
254 681 5115 Cell
LMSells@aol.com