Positions have opened for Central Texas College police academy; KPD now hiring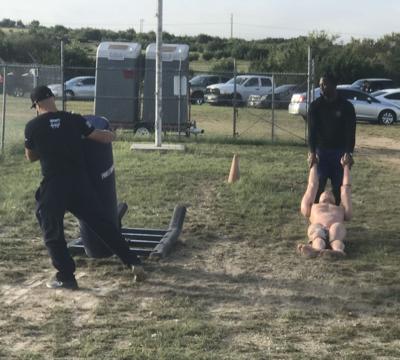 There are opportunities to become a police officer in the Killeen area.
The Central Texas College Police Academy is accepting applications for admission to both the full-time and part-time basic peace officer academy courses.
The Killeen Police Department, which runs its own police academy, is also currently accepting applications, according to a Facebook post.
The full-time day academy for Central Texas College will be conducted Jan. 24 through Jun. 24. Classes for this academy are 40 hours a week, Monday through Thursday, at 7:30 a.m. to 6 p.m.
The deadline for submitting applications for the day academy is Jan. 18 at 5:30 p.m.
The part-time evening academy will start Jan. 31 and end on Dec. 3.
Classes will average 20 hours a week, Monday through Thursday, 6 to 10 p.m. and every other Saturday from 8 a.m. to 5 p.m. The deadline for submitting applications for the evening academy is Jan. 25 at 5:30 p.m.
The basic peace officer course is a 720-hour-course encompassing all aspects of law enforcement. It is designed to prepare cadets to take the licensing exam to become a peace officer in Texas.
Cadets receive extensive hands-on training in defensive tactics, firearms and police vehicle operation and also take written exams on subjects such as victims' rights, Texas Penal Code, Texas Traffic Code, Texas Family Code, criminal investigation, stress management, problem solving and more.
Applicants must also be a U.S. citizen, possess a high school diploma, GED or home school diploma, must not be prohibited from operating a motor vehicle, must not be prohibited by state or federal law from possessing firearms or ammunition and must not have been discharged from military service under dishonorable or bad conduct conditions.
At KPD, the deadline to apply is Jan. 21 and the civil service exam will be on Jan. 30.
Starting police officer salary at KPD is $56,263, but upon completing the academy, this will go up to $60,483 and upon completing probation, the salary will raise to $65,415.
The application packet for readers who are interested in either the day and evening police academies at Central Texas College can be found on the CTC Police Academy website, https://ctc4.me/CTCPoliceAcademy.
Readers applying for the CTC Police Academy must make an appointment to turn in the required paperwork. For more information, can contact CTC at Police.Academy@ctcd.edu or 254-526-1275.
For more information regarding KPD's hiring, readers can email Officer Lopez at Wlopez@killeentexas.gov or call 254-200-7933.
Larry Mitchell, Texas Realtor®

Broker Associate, ABR, CRS, GRI

254 681 5115

Chris Mitchell, Texas Realtor®

254 291 2832

LMSells@aol.com