By Bob Maindelle | Herald correspondent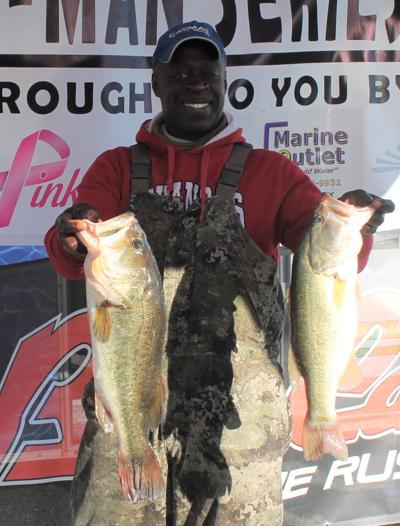 The 2021-2022 Tuff-Man Series visited Belton Lake for the fourth of five regular-season events scheduled prior to the late January 2022 championship event.
Eighty-eight teams launched on the morning of Dec. 12 searching for the heaviest five-fish limit each could capture in the allotted eight-hour time limit.
After what was setting up to be a normal progression of weather toward a cool autumn, December's weather turned unseasonably warm, thus halting and reversing the cooldown of our local reservoirs and scattering fish everywhere from shallow to deep with little consistency.
When the weigh-in was complete, a total of 275 fish had been brought to the scales, not including those fish which were culled, nor those too short to be weighed in. Those 275 fish weighed a cumulative 534.49 pounds, thus yielding an average per-fish weight of 1.94 pounds.
The payout for first place at this event was $5,000, and the series paid out all the way down to ninth
place, plus two big-bass bonuses.
Taking home a $5,000 first-place check and an additional $500 check for landing the contest's single largest bass was the husband and wife team of Craig and Carla Gilbert of Killeen. The Gilberts' limit weighed 19.66 pounds, including their 5.65-pound big bass. This gave the Gilberts a comfortable lead of more than four pounds over the next closest team.
The Gilbert's have been strong contenders in the Tuff-Man Series for many years. The team excels at vertical jigging with a compact, shad-imitating bait known as a slab. Slabs are known to produce best in cool and cold-water conditions as bass congregate and move deep.
When asked about the win, Craig Gilbert said, "Our day started out pretty good. We fished a 15- to 35-foot deep flat loaded with baitfish which were being chased by largemouth bass and white bass. Everything got tough after 10:30."
When asked about the presentations they chose, Gilbert responded, "We used slabs, jigs, Texas rigs and drop shots, but mostly slabs."
Second place went to Nathan Donnell and Jerry Maddox with 15.91 pounds.
The series' final regular season event will take place on Lake Whitney on Jan. 9.
The championship event will be a two-day contest fished on Belton and Stillhouse Hollow lakes, in that order, on Jan. 22-23.
Those teams fishing in at least four of the five events will qualify for the championship event. The championship winners will be awarded a minimum of $15,000.
For a multitude of reasons, the Central Texas Boat Show which normally hosted the weigh-in for both days of the championship, will not take place in 2022.
Contact Dean Thompson at 254-690-3474 or Jackie Cooper at 254-773-9931 for details on the Tuff-Man Series.
Larry Mitchell, Texas Realtor®

Broker Associate, ABR, CRS, GRI

254 681 5115

Chris Mitchell, Texas Realtor®

254 291 2832

LMSells@aol.com