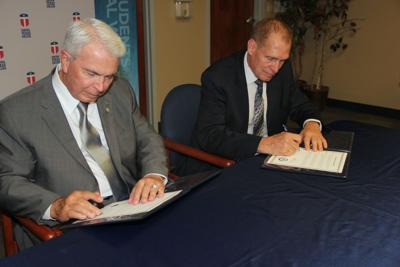 Central Texas College and the University of Arizona Global Campus (UAGC) sealed a partnership this week that will ease the transition from a CTC associate's degree to an online bachelor's degree program through the Chandler, Arizona, based university.
Jim Yeonopolus, CTC chancellor, and Bob Paxton, vice president of strategic relations at UAGC, signed a formal articulation agreement as educational partners committed to providing greater educational opportunities and services for students transferring between institutions.
"Both institutions enter this agreement which supports the concept of a seamless transfer for CTC students looking to continue their higher educational pursuits," said Yeonopolus. "We both believe transfer students should not be required to repeat competencies already achieved and this will ultimately save money and enable students to complete their degree programs quicker."
In what Paxton called "purposeful relationships," CTC is one of five schools selected by UAGC for the articulation agreement which includes discounted tuition for transferring students. "Students who transfer to UAGC after earning an associate degree from CTC or one of the four other partner schools will receive a 40 percent discount on tuition towards a bachelor's degree," said Paxton. "This tuition benefit is not just for current students but also available for CTC graduates and employees." Aside from the tuition benefit, UAGC also offers a military tuition benefit and in the next 12 months, will begin offering full scholarship opportunities.
CTC has numerous articulation agreements in place with most of the public four-year universities in Texas and across the United States. The addition of UAGC represents one more opportunity CTC students have for a smooth transition to a four-year university and guaranteed transferability of credit hours. "Our agreement with UAGC provides a structure through which transfer articulation on all levels can be supported," said Yeonopolus. "Courses taken at any CTC location and by any delivery method are considered equally transferable."
UAGC offers a variety of online degree programs including 15 degree programs in business, three in criminal justice, 12 education degree programs, six in health care, six degree programs in information technology and one in liberal arts.
"We know CTC serves a lot of military students, students who are place-bound or travel through their career in the military," said Paxton. "We afford this online opportunity for those students to complete their degree."
Larry Mitchell, Texas Realtor®

Broker Associate, ABR, CRS, GRI

254 681 5115

Chris Mitchell, Texas Realtor®

254 291 2832

LMSells@aol.com