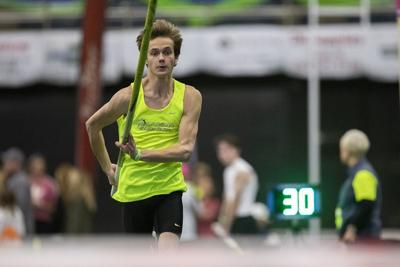 Nearly 400 athletes will spend their New Year's weekend in Belton going aerial for the 13th annual Texas Expo Explosion — the second-largest indoor pole vaulting competition in the United States.
This year, competitors are scheduled to take flight from 3 to 6 p.m. on Friday and from 8 a.m. to 6 p.m. on Saturday at the Bell County Expo Center, 301 W. Loop 121.
"These kids come from all across the nation and everybody is there to help each other regardless if you're here from Missouri, California or New York," Jack Chapman, owner of Texas Elite Pole Vaulting of Killeen, previously told the Telegram. "None of that matters when these kids come together as pole vaulters. It's just a great family event that creates great team bonding."
Chapman, who equates the event to that of a huge family gathering, emphasized how the event showcases one of the most technical events an athlete can ever take part in.
However, the coach has repeatedly noticed the willingness of younger athletes to seek advice from their more experienced counterparts while on the runways — athletes that can sometimes include Olympians.
"The kids really seemed like they really absorbed what they shared with them," Chapman said during the competition in 2020. "They interacted really, really well with the professional athletes."
The Texas Expo Explosion is a New Balance Qualifier- and Amateur Athletic Union-sanctioned event.
"Divisions will be broken down according to the number of entries to eliminate runway over-crowding," according to Texas Expo Explosion. "All divisions are based on (personal record) heights submitted during registration, then placed into flighted divisions for competition."
The qualifying results will be submitted to New Balance Indoor Nationals for approval.
Tickets will be sold at the door. General admission is $10 for one day and $15 for two days, while student, senior and Veteran admission is $5 for one day and $7 for two days.
Larry Mitchell, Texas Realtor®

Broker Associate, ABR, CRS, GRI

254 681 5115

Chris Mitchell, Texas Realtor®

254 291 2832

LMSells@aol.com