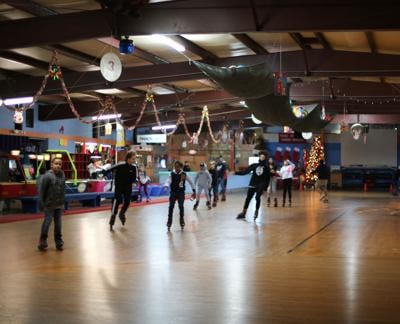 Start the new year by attending a local celebration on New Year's Eve, or having fun on New Year's Day. Here is a list of local events and celebrations in the Killeen-Fort Hood area.
Military members, veterans and their families are invited to Little Jamaica, 1200B Willow Springs Road, for a New Year's Eve party from 8:30 p.m. to midnight. There will be live music, games, and refreshments for attendees to enjoy. Admission is $15 and kids enter free. There will be sparklers for everyone as the countdown begins. Also children will have goodie gifts to bring in 2022. Organizers will also have food and drinks and New Year's photos available for everyone. For more information, call 254-394-5931.
Joker's Ice House Bar and Grill, 7900 S. Clear Creek Road, will host a New Year's Eve party from 9 p.m. to 2 a.m. Karaoke and prize bingo starts at 9 p.m., and champagne toast at midnight. Entry is free and open to the public.
Wake up on News Year's Day and participate in the free 108 Sun Salutation Celebration at Live and Let Liv Yoga, 3803 Levy Lane Suite 102. This open house style event will have three sections for all levels of experience. Sun Salutaions go from 1-3 p.m., Gentle Practice with Breath & Meditation at 3 p.m. and Sound Bath with double gongs and singing bowls at 3:30 p.m. Stay for the full experience, or drop in for just one Sun Salutation. There will be free refreshments and various door prizes, including a 30-day unlimited class pass.
American Legion Post 223 Canteen, 208 S. Park St., is partnering up with the Voodoo & Moonshine Band for a New Years Eve party from 9 p.m. to 1 a.m. The event is open to the public.
Texas Skateland, 205 Cox Drive, will host a New Year's Party from 6 p.m. to midnight on Dec. 31. Admission for the New Year's event is $20 and includes a free hat, horn, lei necklace, and midnight ball drop.
Club Fuego, 704 Edwards Drive, will host a New Year's Eve Drag Bash from 9 p.m. to 2 a.m. Text 254-462-9214 for more details on the seating and VIP amenities.
Sean's Pub in Harker Heights, 1827 E. FM 2410 Road, is collaborating with a local band called King's Revival to create a New Years Eve Party. The event starts at 9 p.m. and is open to the public.
VFW Post 8577 at 1506 Veterans Ave. will host a masquerade party starting at 9 p.m. The post requests that attendees come in formal attire with a mask.
Bowl in the New Year will be from 6 to 8:30 p.m. or 10:30 p.m. to 12:30 a.m. on Dec. 31 at Phantom Warrior Lanes Bowling Center, 49010 Santa Fe Ave., Fort Hood. Lane reservations for either the first or second block of time will be $100 each and includes shoe rentals for up to five people, unlimited bowling, large pizza and wings, a pitcher of soda, and party favors. Call 254-532-3061 to reserve a lane in advance.
A fishing tournament will be held in the area from Jan. 1 to Jan. 8. New Year's Bassolution is a local event that is open to residents 18 and older. For more information on the event and how to enter, go to https://www.facebook.com/search/top?q=new%20year%E2%80%99s%20bassolution%20.
Time to put the past year behind us and enjoy the next. The Herald advises that party-goers practice safety measures such as social distancing and avoiding drinking and driving.
Larry Mitchell, Texas Realtor®

Broker Associate, ABR, CRS, GRI

254 681 5115

Chris Mitchell, Texas Realtor®

254 291 2832

LMSells@aol.com