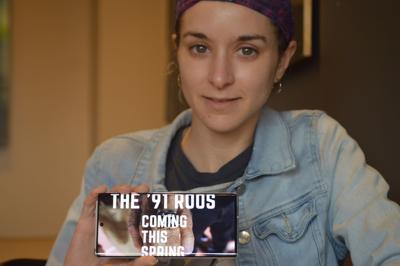 Ashleigh Rudser, a local filmmaker, is working on a documentary about Killeen High School's 1991 state football championship.
Rudser, 30, said that while the documentary is football related, it's not just about football.
"It's a story about Killeen and what Killeen went through during that year," Rudser said.
The Luby's massacre, which took place Oct. 16, 1991, is still a painful memory for many Killeen, residents and while it has been 30 years since that day, it is one that still resonates through the community. But, in true Texas fashion, football is what helped the community heal.
"It didn't matter if you were wearing green (Ellison High School's color) or maroon (Killeen High's color), you just wanted to win, and that's what we did. I still remember when we were coming back home how people were all standing on the Nolanville bridge with signs welcoming us back," Billy Spiller, former Killeen Kangaroo quarterback, said during a Killeen ISD school board meeting last month.
School board members shared their memories during that year. Killeen ISD school board member Cullen Mills got emotional as he told a story of how his dad brought him and some family to Houston to watch the Killeen Kangaroos play against the Sugar Land Dulles Vikings for the title.
"It was something magical watching these guys play," Mills said, as tears welled up in his eyes.
"Just how Gotham is a character in Batman, I see Killeen the same way. It's a character," Rudser said.
Rudser moved to Killeen when she was 6 years old but to her, Killeen is her home.
Before working on the documentary, Rudser was working on episodic short films that each take place in Killeen and featuring a different character.
"We even have one that takes place in a call center, which somehow everyone I know from here has worked in one," Rudser said. After the documentary is finished, Rudser expects for those films to begin filming next year.
Rudser became interested in doing a documentary film about the 1991 championship players because growing up she would always hear stories about what Killeen went through during 1991.
"The fact that this (winnng a state championship) hasn't happened again in 30 years makes it even more magical," Rudser said.
Rudser, along with her friends Derwin Graham, Deonte Epps and Kreshawn Fleming, came together to begin work on the film this year, as it is the 30-year anniversary of both the game and the Luby's shooting.
Rudser and crew expect to release the film this spring.
"I would love to have a screening at either Vive Les Arts or one of the theaters around, but we will have it up on online for a week so everyone can see it" Rudser said. "But we're going to take it down because we do plan to do a festival run with the film."
Larry Mitchell, Texas Realtor®
Broker Associate, ABR, CRS, GRI
254 681 5115
Chris Mitchell, Texas Realtor®
254 291 2832
LMSells@aol.com