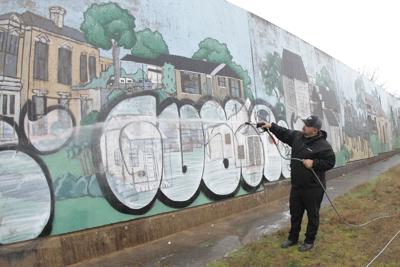 The mural at the Belton Dam, a staple of the community since the 1970s, is getting spruced up after recent vandalism.
Rudy Calooy Jr., the original artist, has started a movement to revitalize the 800-feet long, 42-year-old artwork.
Calooy, a freelance commercial artist, received the original contract for the mural in 1978 while attending the University of Mary Hardin-Baylor and completed it a year later.
"I had two helpers from Temple College and two helpers from Central Texas College," Calooy said. "It was a volunteer effort."
Calooy's work as a commercial artist and photographer took him all over the United States until a couple of years ago, he returned to Bell County and he noticed vandals had damaged the mural in the Miller Springs Nature Center near the Belton Dam overlook.
"My mom passed away a while back, and I'm now taking care of my 94-year-old dad," he said. "I was bringing my dad back from the VA when he noticed it. I came back with my zoom lens and took pictures of it."
The Belton Dam Mural Restoration Project currently works off donations of paint and labor contributed for the effort.
 "About a month ago, I started the effort … to restore what has been defaced," Calooy said. "There's another large spot on the other side 60-foot wall that has some graffiti going on. There's some more on the very end."
Two of the volunteers who answered the call to help were Belton Texas Prowash business owners Craig and Sarah McGehee. The couple volunteered their time and equipment to power wash graffiti off the mural.
"We were approached by (Calooy) a couple of months ago, and we decided to come and help," Craig McGehee said. "I remember seeing the graffiti … and thinking it was so frustrating that it had gone so many years without any tagging. We're always looking for ways to give back to the community."
The McGehees grew up in Belton and have appreciated the mural since they were young.
"I remember the original mural when it was hot air balloons," Sarah McGehee said. "Our kids are all in Belton schools, and I think it's neat to have another generation to continue to help out."
Hershall Seals, chair of the UMHB art department, was integral in an early restoration of the mural in the 2000s.
"We brought a bunch of students and scaffolding and painted the entire thing," he said. "Here we are 20 years later, and it needs it again. It's one of the largest, if not the largest, mural in Texas. It illustrates the visual history of Bell County. I think it's important to keep it restored for as long as it lasts. I think it improves the environment."
Park Ranger Madison Wetterstroem is among those that patrol the area where the mural is housed, along with 15 U.S. Army Corps of Engineers parks in the Lake Belton area.
"Sadly, someone decided to graffiti it pretty badly," she said. "I was assigned the project to get it refurbished again, and then (Calooy) contacted us a couple of weeks later to help us restore this mural. We appreciate what he's doing."
She said anyone damaging the mural could face charges of defacing federal property.
Larry Mitchell, Texas Realtor®
Broker Associate, ABR, CRS, GRI
254 681 5115
Chris Mitchell, Texas Realtor®
254 291 2832
LMSells@aol.com