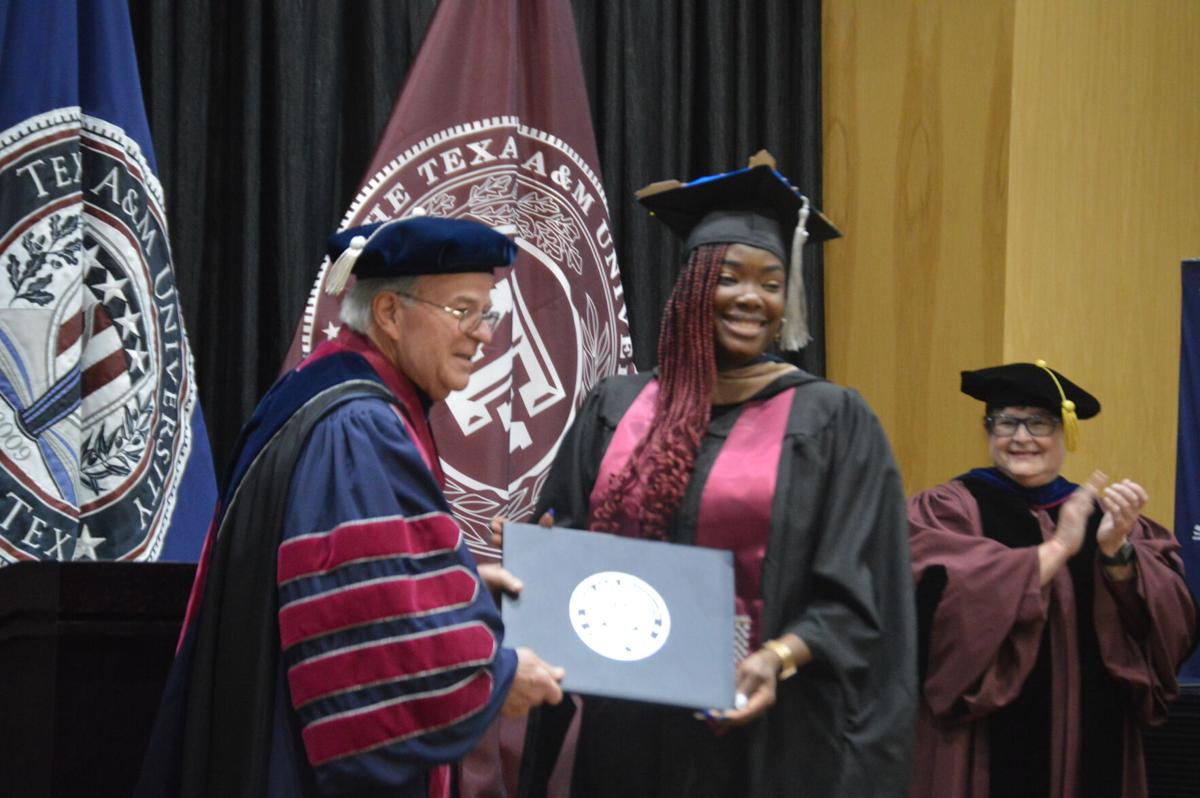 Dozens of students walked across the stage at Texas A&M University-Central Texas in Killeen on Friday, signifying the completion of their degree.
In total, more than 200 students graduated from the university during a pair of in-person walk-thru ceremonies.
Opting for the alternative graduation ceremony around a year ago, the university allows students to walk across the stage while being accompanied by family and friends. The students and their supporters lined up into the hallway and out the door in front of Warrior Hall and waited for those in front of them to walk across the stage.
University President Marc Nigliazzo said the university plans to go back to a traditional ceremony sometime in the future. In the meantime, he said some students have spoken in support of the alternative graduation since family and friends can be closer.
Some students on Friday had a large contingent of support with them. Others, such as Rafael Torrento and Tammy Coakley, had their closest family with them.
Torrento's wife and daughter came to see his graduation, while Coakley's husband did as well.
"There were two dreams in my childhood since I was living in El Salvador," Torrento said. "One, it was to join the United States Army … My last goal is to get a job, and I will pursue it."
The 48-year-old Torrento retired from the Army after a 20-year career in 2017.
He graduated Friday with a Bachelor of Science with an emphasis in airport management.
"My dream was always to become a pilot, but I never had the chance to become a pilot," Torrento said. "One, because I'm color blind, and the other one — monetary issues. But I want to work in an airport. It's my dream, and I will pursue it — and I'm hoping I can achieve it."
Coakley, on the other hand, had to shift her focus when doing her coursework since her job was in a different career field than she was pursuing her degree in, which was a Master of Business Administration with an emphasis in resource management.
"I'm a full-time employee," Coakley said. "I'm actually a scientist. Transferring my mind from the business life versus the science life, it was a challenge. I had to change the way I think."
Recently, Coakley started a small business called Naturall Geechee! LLC, where she sells a variety of things including herbal products, hair products and handmade jewelry.
She said she pursued the MBA degree because of her small business.
"I needed to get all the knowledge that I could get on the business world and what I needed to do to be successful in my own business venture, so I'm grateful that I did take that opportunity," the 39-year-old Coakley said.
Nigliazzo did not give remarks to open the ceremony but did say beforehand that graduation day is about the students.
"Yes, as a university we're proud; we're proud to be able to hold the celebration, but this is their accomplishment and their opportunity to let it really sink in," he said.
Larry Mitchell, Texas Realtor®
Broker Associate, ABR, CRS, GRI
254 681 5115
Chris Mitchell, Texas Realtor®
254 291 2832
LMSells@aol.com