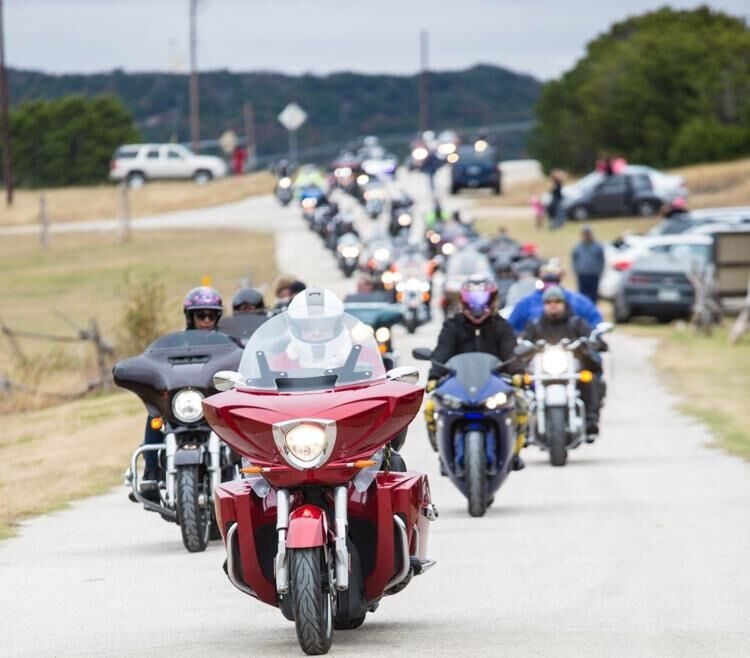 Don't be alarmed if you hear a loud rumble this weekend, it's just Santa's local workers going on a toy run on motorcycles and other vehicles.
The 29th annual Tri-County Toy Run will be held on Sunday to bring toys to children of the Bell, Lampasas and Coryell counties. Car clubs, motorcyclists and local law enforcement will all be participating in the event of the season.
Each year the toy run is held the first Sunday in December, and this year the event will be held in Memory of Douglas (Doug) E. Downing.
Downing passed away in August 2021 and had provided the semi-truck trailer for several years that was used for transporting the donations from the starting point to the ending point.
The event is planned to go on no matter the weather and is for anyone who wants to join in on the fun. Attendees can bring a new toy or pay a $15 admission fee to participate.
Events at the starting point begin at 9 a.m. at the Mayborn Convention Center, 3303 N. 3rd Street in Temple. There will be event T-shirts, food, raffles, music and family fun. The escorted ride starts at 1 p.m. and will end at Hancock Springs Park located at 1600 281 South, in Lampasas where chili will be served. All money and toy donations will be collected in Temple and delivered to Lampasas to be distributed evenly among participating non-profits.
"Last year we were able to sponsor 9,000 children who possibly wouldn't have gotten any toys for Christmas. Thanks to the toy run we were able to provide toy for each one of them." Chairman Bruce Raymond said. "It's an amazing sight, being able to see so many people from different communities come together to bring these children gifts."
In past toy run events, hundreds of motorcycles have participated.
The main route goes from Temple, through Killeen and to Copperas Cove on interstate highways, and then on U.S. Highway 190 to Lampasas.
"We will get onto I-35 and go through temple and Belton before getting onto I-14 and 190. Once we get to the 190 bypass of Copperas Cove we will turn into Kempner and end at the park in Lampasas," Raymond said about the route. "We altered the times this year because of safety concerns for our motorists. Now everyone can have an hour to get home after church before the procession starts."
Raymond also said that the Belton, Killeen and Cove police departments will be helping to manage traffic during the event. The 190 bypass in Cove will be completely closed for the procession.
Event officials posted in a Facebook post that the lineup for the 29th Annual Tri-County Toy Run of Central Texas from Temple to Lampasas will be as follows:
1. Motor Officers and other escort personnel (i.e. DPS, SO's and PD's)
3. Dispatcher (Lacy Argabright will notify PD Dispatchers when the run gets close to the units area)
5. Toy Run Board and Committee Members.
6. Ride participants (motorcycles)
10. Fire and Volunteer Fire Departments.
Larry Mitchell, Texas Realtor®
Broker Associate, ABR, CRS, GRI
254 681 5115
Chris Mitchell, Texas Realtor®
254 291 2832
LMSells@aol.com