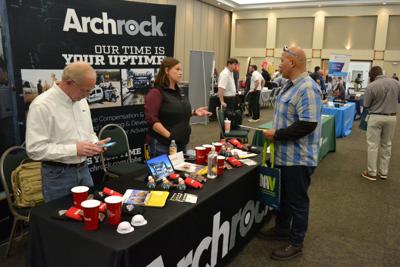 Recruit Veterans and Disabled Veterans of America teamed up to put together their ninth veterans job fair at the Killeen Civic and Conference Center on Wednesday afternoon.
The job fair had 70 vendors looking for potential employees, and over 250 job seekers pre-registered for the event. The actual number of the attendees continued to grow after the fair started, since the organizations also accepted walk ins.
The job fair was for veterans, service members who will soon be transitioning out of the military and their families.
"Many of the employers are prior military themselves, so it's good for local veterans to know there is a place for them," Event Director Jennifer Hadac said. "It's a great way for transitioning service members to engage with people who are specifically looking for them and their skill sets."
Hadac explained that the current national veteran unemployment rate is 4.2%, but Texas' percentage is a little higher at 5.4%.
Andrew White, a retired major, is now a talent acquisition specialist for the Fort Worth district of the U.S. Army Corps of Engineers. His booth was one of the many that lined the large ballroom at the conference center Wednesday.
"COVID really limited our ability to go to fairs, but we have been to seven fairs since July 2021 and this is the second one with this organization," he said.
"The veterans and their families benefit greatly on all fronts. This face-to-face interaction is very important on the hiring process that is lost in the virtual world. These fairs are a great way for people to evaluate the employees and vice versa."
Job fair organizers said there are other ways job seekers can try and land a new career.
"In addition to our events, we have an online job board with over 200,000 active job posting at any given time, 37,000 of those are in Texas and 7,000 of those are here in Fort Hood, so there are lots of opportunities for those seeking jobs." Hadac said.
If anyone wan unable to attend the event but still would like to find a job, go to www.recruitmilitary.com and click the "job seeker" tab. This will direct visitors to go to the online job board. The board will show jobs from all across the nation as well as show the vendors who were at the event and local job opportunities.
Larry Mitchell, Texas Realtor®
Broker Associate, ABR, CRS, GRI
254 681 5115
Chris Mitchell, Texas Realtor®
254 291 2832
LMSells@aol.com