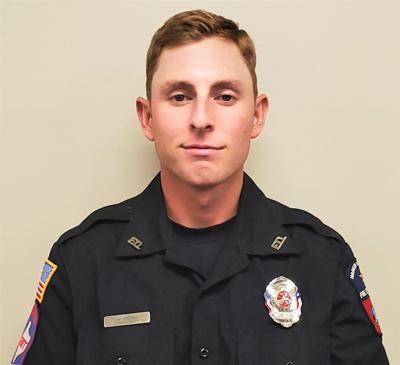 A funeral service for Harker Heights Firefighter/EMT Cole Hagen Simmons is scheduled to be held Monday in West, his hometown.
Simmons, who had been with the department since August of this year, died in a vehicle crash while off-duty Tuesday in Copperas Cove.
The service will be held at 11 a.m. Monday at St. Mary's Catholic Church of the Assumption, 303 South Harrison Street, in West. A burial will follow at New Lebanon Cemetery near Aquilla with firefighter honors, according to a news release.
Heights officials said Cole will lie-in-state from noon to 8 p.m. Sunday at Aderhold Funeral Home, 808 South Reagan Street in West.
"Mayor Spencer H. Smith has ordered the City of Harker Heights Flag to half-staff through Monday evening in honor of former Firefighter/EMT Cole Hagen Simmons," the news release stated.
In lieu of flowers, memorials may be made to a scholarship fund for his sister, Claire, a scholarship fund for a West High School graduate who wants to be a Firefighter/EMT/Paramedic or to a fund for the family to help with final expenses.