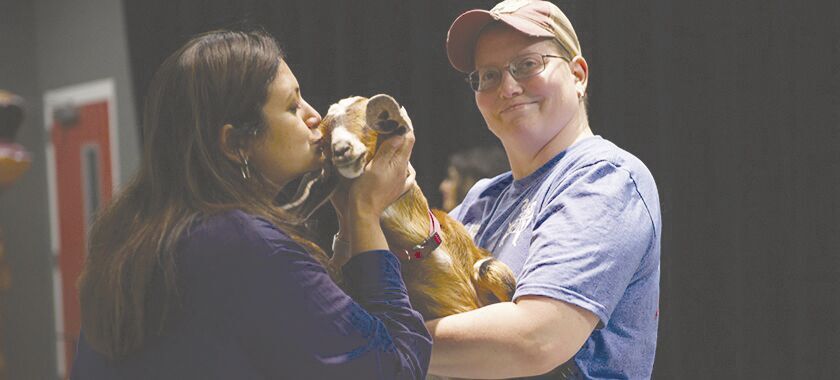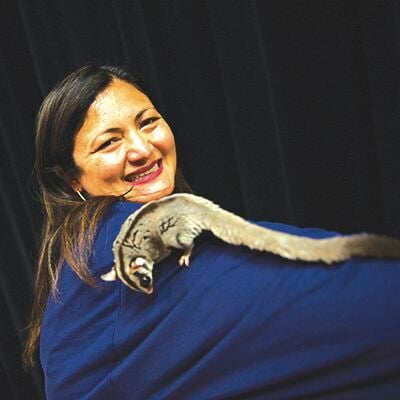 Trimmier Elementary School students, staff and family members recently tripled its United Way giving goal, so the school's principal decided to increase her agreed-upon challenge.
The school set a funding goal of $1,500, which was a slight increase from last year's giving total.
The three-week fundraising period resulted in $5,023 raised for the local United Way drive.
Principal Beckie Avery gave students a choice between being "beanboozled" or kissing a mystery animal.
The students apparently liked the idea of their principal puckering up for an animal. A few students asked her if she could arrange to bring in a dinosaur for the event.
As it turned out, she was up for the challenge.
On Nov. 19, the school conducted a celebration rally and Avery bravely prepared to kiss an animal or two or three and she didn't even know what kind of creature was going to emerge from behind the cafeteria stage curtain.
One of her mystery animal kisses landed on a goat.
She also got to kiss a sugar glider, a small gray and black marsupial native to Australia and kin to an opossum that is slightly smaller than a squirrel and has webbing that allows it to glide among the trees.
After smooching the goat and the glider, the assembly seemed over, but there was one more surprise.
From the back of the stage, a dinosaur lumbered out and a laughing Avery embraced the costumed staff member that might or might not have been one of the school's counselors.
Counselors Brenda Gillespie and Gigi Alvarez and Avery agreed that all the fun on the final afternoon before the weeklong Thanksgiving break was a great way to celebrate the school's generosity.
"We tried to have fun with it," Alvarez said of the fundraising events that brought in more than $5,000 for the local charitable organization.
Students sent kindness grams to peers and staff members and participated in coin wars, sold popcorn and face painting and took part in dress-up days.
"We were shocked," said Alvarez. "We didn't expect that much."
School leaders said they encourage giving because the United Way helps fund resources such as Communities in Schools that directly benefits Trimmier Elementary School and other Killeen ISD schools.
"We have a CIS counselor here who does great work," said Avery, "so we see the benefits of where the money goes."
Larry Mitchell, Texas Realtor®
254 681 5115
Chris Mitchell, Texas Realtor®
254 291 2832
LMSells@aol.com