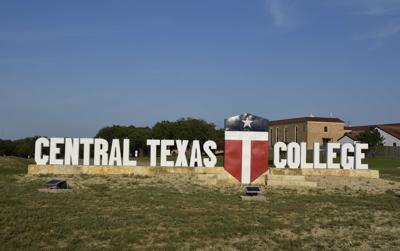 Students interested in taking classes at Central Texas College in the upcoming semester may be able to do so for free thanks to COVID federal funding, according to a news release from the college.
Registration for the spring 2022 semester at Central Texas College in Killeen, Fort Hood and service area campuses and distance learning classes is currently open, and according to CTC, there may be multiple ways for students to earn college credits for free this semester.
"Most students will receive a free semester as several emergency aid grants are available to cover the cost of tuition and books," CTC spokesman Bruce Vasbinder said in a news release.
CTC offers classes in eight- and 16-week sessions in face-to-face in-classroom, traditional online courses and in synchronous real-time virtual formats. Students who have completed admissions and advising may register using the CTC's Eagle Self-Service system.
Classes at the main campus in Killeen and service area sites of Fredericksburg, Gatesville, Lampasas and Marble Falls begin Jan. 18. The deadline to register online is Jan. 17. A three-week mini-term at the Fort Hood campus begins Dec. 13 with a registration deadline of Dec. 12 for military personnel using ArmyIgnitED and the Fort Hood spring I term begins Jan. 18. Registration deadline through ArmyIgnitED in Jan. 16.
"One of the emergency aid grant options is the American Rescue Plan (ARP) grant which covers the cost of tuition and fees as well emergency costs such as food, housing, health care or child care," Vasbinder said. "New and returning students enrolled in three credit hours at CTC can receive $1,000. Students enrolled in a minimum of 12 credit hours at CTC or have equivalent enrollment status in a CTC-designated non-credit program may receive up to $2,000. Dual credit students are eligible for up to $500."
A second option is the Coronavirus Response and Relief Supplemental Appropriations Act grant.
The $500 grant, Vasbinder said, may be used for tuition, food, housing, health care (including mental health care), child care or other emergency costs. Students who qualify must be enrolled in at least three semester credit hours at CTC or have equivalent enrollment status in a CTC-designated non-credit program and be financially impacted in some way by COVID-19.
Vasbinder said students can also apply for the Reskilling grant which was established to help students who were in college but had to stop before earning a degree or certificate. Students with financial need who are eligible for federal Title IV aid may qualify up to $2,500. Students who file the FAFSA but do not have financial need may qualify for up to $500. Previously enrolled CTC students, along with students that were previously enrolled in a different college who have been out of school for either the previous fall or spring semester or last six months are eligible.
Students needing assistance with degree or certificate plan advising can visit the Enrollment Center (Bldg. 209) to speak with an advisor or schedule an appointment (virtual or in-person) by emailing academic.advising@ctcd.edu. Students can also reach an advisor through the online live chat feature or by calling 254-526-1226. New students can complete the admissions application online and view the various programs of study options at to www.ctcd.edu/explore. Students at the Fort Hood campus can call 254-526-1917 for assistance.
Larry Mitchell, Texas Realtor®
254 681 5115
Chris Mitchell, Texas Realtor®
254 291 2832
LMSells@aol.com