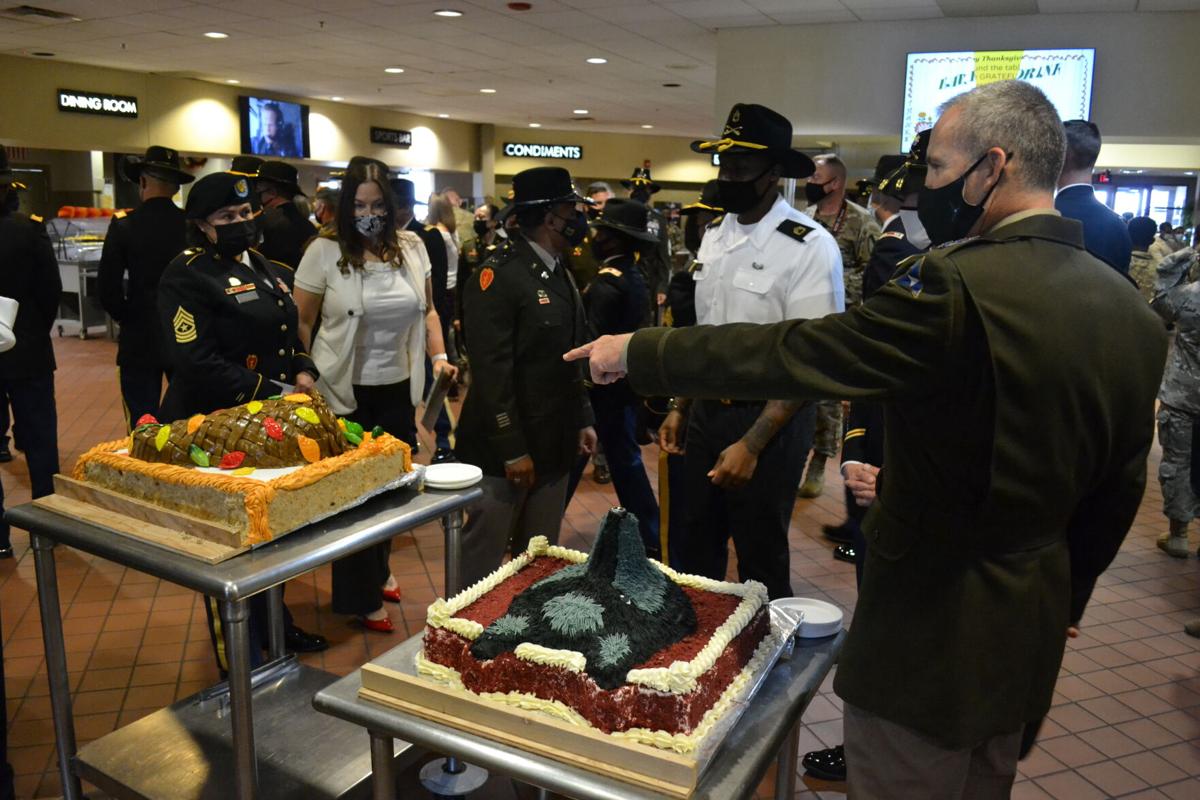 Army leaders served their fellow soldiers and their families Thanksgiving meals on Tuesday. Soldiers could choose from various meats, sides, and deserst to eat.
Army leaders worked with the cooking staff to cut and serve various meals and sides.
FORT HOOD — Tuesday was Fort Hood's annual Thanksgiving meal competition between the dining halls on post. This has been a tradition for soldiers at Fort Hood for many years and still receives praise for its festive decor and good food.
Each of the seven dining facilities on Fort Hood participates. The soldiers decorate every surface and have fun themes such as Patriot Inn Dining Facility's "Hollywood" or Theodore Roosevelt Dining Facility's "Around the World."
Some buildings had intricate ice sculptures and art, fun dioramas, and detailed cakes to make their facility stand out from the rest.
Pfc. Julia Marquez, who works as a cook at Patriot Inn, said they started preparing for the competition two days in advance.
"We had to prepare our regular meals and as well as the additional Thanksgiving meal," she said. "For meals like this, it takes a lot of effort and hands.We usually cook for 300 people, but for big events like today, we prepped meals for 2,000 people."
This is Marquez's first year working with the Thanksgiving meal competition.
"It shows that we are in this together … seeing all the families and kids enjoying the food is really amazing," she said.
Sgt. Jaquan Ross can't go home for Thanksgiving this year and will be spending the holiday far from home.
"I've been in the military for six years and have been deployed over the holidays before. It's nice to know I have a place to go to eat and be with friends," Ross said. "This is great for morale because it adds a sense of family when you can't be with your own."
After visiting each dining hall Tuesday, III Corps and Fort Hood commander Lt. Gen Pat White announced that the Iron Horse Dining Facility was the winner of the 2021 Thanksgiving meal competition. The Theodore Roosevelt facility came in second place.
Two of the dining halls, the Operation Iraqi Freedom and the Patriot Inn, will be open with normal business hours for breakfast, lunch and dinner on Thanksgiving Day.
Larry Mitchell, Texas Realtor®
254 681 5115
Chris Mitchell, Texas Realtor®
254 291 2832
LMSells@aol.com