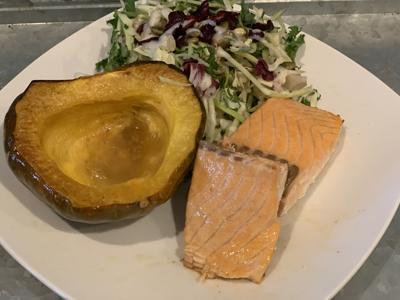 Thanksgiving is a time when family and friends gather for festive parties with delicious food. The food choices, however, aren't always the healthiest when you think of dishes such as buttery biscuits, creamy mashed potatoes and sweet apple pies.
Starting into the holiday season and enjoying that happy time of the year can be especially hard for those who are watching their waistline during the year or focusing on making healthier choices.
Luckily, you don't have to skip Thanksgiving to stay healthy and on track with your diet.
Rebecca Rubio, clinical nutrition manager at AdventHealth-Central Texas hospital in Killeen, explains that it's not hard to create a Thanksgiving dinner that doesn't leave you feeling uncomfortably stuffed and ready to crash on the couch.
"There are many ways you can make a Thanksgiving meal healthier," she said.
In fact, many Thanksgiving foods start off healthy but become unhealthy by the way they are prepared. However, butter and sugar aren't a requirement to make a delicious dish for the holidays.
Some solutions to make better choices and, therefore, a more nutritious meal, include a closer look at the ingredients list or the switch to simple but healthy alternatives.
"You can lower a dish's sodium by using less salt or low sodium broths or add flavor using spices, lemon juice or vinegar in place of salt-based additives," Rubio said.
There are also plenty of naturally delicious Thanksgiving foods and many ways to make your favorite dishes lighter and better digestible.
"You can make a meal more heart-healthy by including more healthy fats from vegetable oils rather than butters," Rubio said.
Another way to provide a delicious but nutritious Thanksgiving dinner is to add more fruits and vegetables to the menu. From sweet potatoes to cranberries to green beans — there are various delicious foods to choose from.
"That way, you can fill your plate with healthful, colorful foods," Rubio said. "I think it's always best to focus on what you can add to your plate rather than what you can take away."
While you can make easy and healthy choices, some people believe that decadent foods are the best part of Thanksgiving.
If you don't want to change your traditional Thanksgiving favorites and still want to eat without guilt, Rubio suggested practicing mindful eating.
"Make a plate and sit down to a formal meal without distractions," she said. "Check in with yourself throughout the meal periodically to feel when you might be getting full. Listen to your body's natural cues. And remember, you never have to clear your plate just to clear your plate. Stop when you're full, but if you happen to overeat, cut yourself some slack and enjoy your time with family."
No matter what food choices you will make on Thanksgiving, it's important to remember that one meal doesn't eradicate the health and fitness goals you worked for throughout the year.
"Thanksgiving is one day," Rubio said. "If you're on a health journey, one day will not derail all your hard work."
But don't drag out the celebrations and feed on unhealthy leftovers and treats for the whole week.
Especially with the holiday season starting, it's tempting to throw all restraint out the window and plan to get back on track in January.
Instead of focusing on traditions that include sugary treats and unhealthy snacks, starting some new healthy ones can be beneficial.
"Incorporate activity during the holidays, and get your whole family involved," Rubio said. "Create new traditions by going on a family walk, playing an outdoor sport or dancing to music together."
Most important is, however, to not restrict yourself entirely during the holidays.
"Oftentimes, when we deprive ourselves of the things we really want, we just want them more," Rubio said. "This can lead to an unhealthy cycle of binging and restricting. Enjoy all foods in moderation."
The combination of moderation and healthy choices can make every holiday season healthy and as satisfying and delicious as ever.
Larry Mitchell, Texas Realtor®
254 681 5115
Chris Mitchell, Texas Realtor®
254 291 2832
LMSells@aol.com