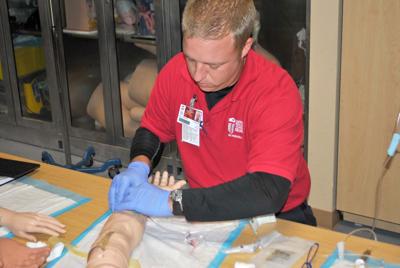 The Central Texas College paramedic program recently received national reaccreditation from the Committee on Accreditation of Educational Programs for the Emergency Medical Services Professions. Initially accredited in 2011 and again in 2016, Central Texas College is one of 57 accredited paramedic programs in Texas.
As of 2010, the National Association of State EMS Officials required all paramedic education programs to be nationally accredited by Jan. 1, 2013, in order for graduates to be eligible to take the National Registry of Emergency Medical Technicians paramedics certification exam. Central Texas College became one of the first fully-accredited college programs in 2011 and received reaccreditation in 2016.
The initial accreditation process began with a self-study in 2009 followed by an informal review of the self-study which was submitted to the Commission on Accreditation of Allied Health Education Programs in 2010. The submission was followed by a site visit from committee board members who then recommended the initial accreditation.
Central Texas College underwent a similar self-evaluation and site visit to earn reaccreditation this year. "Accreditation is an effort to assess the quality of institutions, programs and services," said Tammy Samarripa, department chairperson for Central Texas College Health Sciences. "It is a tool intended to help assure a well-prepared and qualified workforce providing health care services. And as our program grows and evolves, the process serves as an opportunity of self-analysis and helps us identify areas of improvement and reinforce those areas in which we excel."
The Central Texas College paramedic program has been approved for accreditation until 2026 when it will then resubmit for reaccreditation.
Larry Mitchell, Texas Realtor®
254 681 5115
Chris Mitchell, Texas Realtor®
254 291 2832
LMSells@aol.com