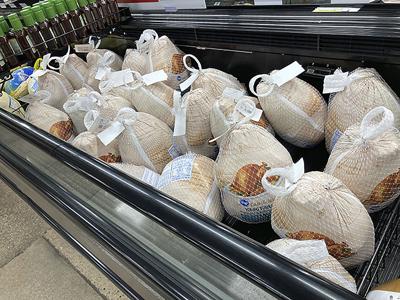 As Thanksgiving quickly approaches, Bell County residents keep hearing of the nationwide turkey shortage that has made preparing for the holidays difficult.
The shortage is due to a decrease in turkey production and gaps in the supply chain, both a result of the pandemic.
How did this happen and what does it mean for residents of Bell County?
A recent study by the U.S. Department of Agriculture found that "inventories of frozen whole turkeys and turkey parts were 24 percent lower than 3-year average volumes" as of Aug. 31 this year.
While not ideal, the decrease does not affect how many turkeys are on store shelves. The labor shortages and issues with distribution is the main reason behind the shortage.
This is a good example of the Bullwhip effect — where an unanticipated change in consumer demand (the pandemic) causes ripple effects across the system.
In 2020, holiday gatherings were very small, if held at all. This led to smaller turkeys being prioritized on shelves and larger turkeys being discarded. Now that COVID-19 cases are starting to decrease, more people are planning for larger gatherings.
This sudden change has made ordering turkeys harder since stores have to estimate how many turkeys to stock and how big they should be based on previous data.
Since customer demand is constantly fluctuating, businesses must predict demand to properly position inventory and other resources. These predictions are based on past statistics, and when the pandemic hit, all past statistics flew out the window.
This has also caused turkey prices to increase slightly. According to the Department of Agriculture's Turkey Report, whole frozen turkeys already cost about 26 cents a pound more this year than they did last year.
Thankfully, the shortage doesn't seem to be much of an issue in the Killeen-Fort Hood area — at least not so far.
On Thursday, local stores were surveyed on the current state the shortage. The Killeen H-E-B at Trimmier Road and Lowes Boulevard had a good amount of large turkeys on display with a few smaller turkeys as well. A large H-E-B brand turkey was selling for $1.44 per pound Thursday, while other brands ranged from $1.88 to $1.99 per pound. The store was also limiting the number of turkeys that could be purchased.
The Killeen Walmart on Lowes Boulevard displayed a nice selection of smaller turkeys that were priced at $1.88 per pound. They were also selling a small selection pre-cooked turkeys at $3 a pound.
The Killeen Aldi had the least amount of large turkeys on display Thursday.
Aldi currently has a sale on Butterball turkeys priced at $0.84 per pound; other turkeys on display were priced at $1.49 and $2.99 depending on the brand. The store was also limiting the number of turkeys that could be purchased.
Apparently, local residents do not need to worry about not having turkey this year.
However, it is advisable to buy the turkey sooner rather than later so residents don't find themselves in a last-minute rush to the poultry aisle.
Larry Mitchell, Texas Realtor®
254 681 5115
Chris Mitchell, Texas Realtor®
254 291 2832
LMSells@aol.com