May 27, 2021
You're ready to list your house—but are your dated bedrooms a turn-off to prospective buyers?
Today's buyers are more focused than ever on finding luxe master suites that double as relaxing retreats.
"Pre-pandemic, nobody really cared about the bedroom. Now, people need somewhere to get away," says Brad Whittaker, an agent with Realty ONE Group Pacifica in Longview, WA. "Bedrooms are really becoming a place of solace for Mom and Dad, because when kids are stuck at home, and they're working from home, they need a place to escape."
Don't list your house until you've made these crucial improvements to your master suite and bedrooms.
1. Update the lighting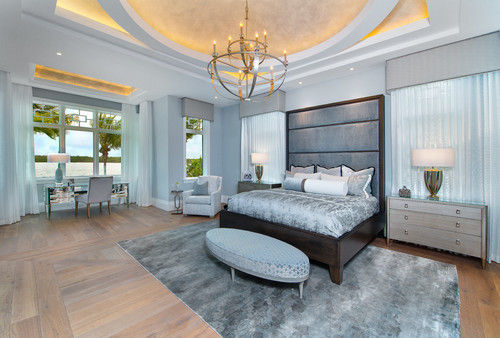 The best way to brighten up any space—including your bedrooms—is to start with new bulbs and light fixtures.
"Change the lightbulbs in the bedrooms to LED lights," says Tony Rodriguez-Tellaheche, owner and managing broker of Prestige Realty Group in Miami. "The crisp, white light of LEDs helps the room feel brighter, and the bulbs are more energy-efficient than the standard ones. Bright white light can even help make the room feel bigger than before."
If it's in your budget, consider investing in smart lighting.
"People like convenience, and it is nice to not have to get out of bed to turn your lights or fan off," Whittaker says. "Voice control is great."
Another option: Let in more natural light with windows.
"If you have 12-foot ceilings, installing a transom window over the door is a nice way to let some light in," Whittaker says.
2. Clean out your closets
Who doesn't want more closet space?
"The best update someone can make (to the bedroom) is adding a closet system or organizer," says Kris Lindahl, CEO and founder of Kris Lindahl Real Estate. "There are many varieties, and they add instant value to your home."
Adding a simple closet organizer can help buyers visualize how they'll neatly store their clothes.
"It can create an experience in a closet, instead of that area being a forgotten space behind a closed door," Lindahl says.
Simply decluttering can also make a small closet look bigger. If you have a room without a closet, consider purchasing an armoire to show how buyers will be able to stow their stuff.
3. Stage bedrooms to sell
This seems counterintuitive, but if you've had your eye on a new bedroom set, consider splurging before you sell your house—new furniture can do wonders when you're staging to sell.
"Dated furniture can make the entire space look old," Lindahl says. "A great headboard and dresser can change the aesthetics of an entire room."
For a budget-friendly alternative to new furniture, try creating a focal wall behind the bed's headboard.
"There are a lot of ways to do this, and get an elevated look and add value without breaking the bank," Lindahl says. "Think about using paint, wallpaper, or board and batten."
You'll also want to swap dingy bedding for something a little more photogenic.
"The bed is the focal point in every bedroom," Lindahl says. "Coordinating bedding and pillows can make a huge difference in the first impression."
Finally, remember to remove any personal touches that will make it hard for buyers to see themselves in the space.
"Take down any large family photos in the bedrooms, and replace them with artwork that won't distract from the room," Rodriguez-Tellaheche says. "This simple trick can help buyers visualize themselves living there, rather than feeling like a visitor in someone else's home."
4. Tone down loud paint colors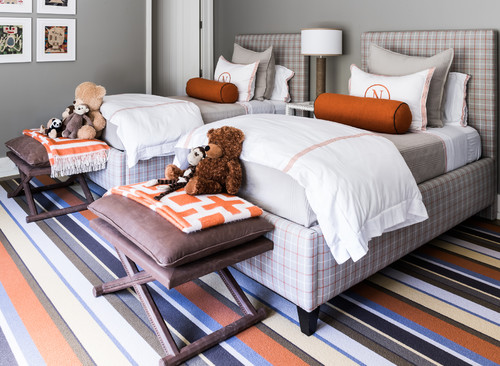 You might love sunflower yellow and cerulean blue, but bold colors in the bedroom might not appeal to the majority of buyers.
"Make sure to neutralize the paint before selling," particularly in kids rooms, Lindahl says. "Many parents let kids pick out the paint color for their room, and it ends up being something like bubble gum pink, jungle green, or sunshine yellow. That is really fun for kids, but horrible if you're selling. Paint over it."
5. Create a functional WFH space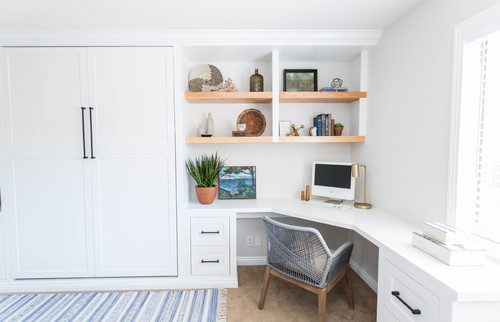 Once upon a time, home offices were a novelty that appealed only to certain home buyers. These days, they're a must-have.
"The need for multiple home offices has become increasingly popular," Whittaker says. "If you're tied to your computer and you have to get on Zoom, two people working out of one room is not ideal."
Consider staging spare bedrooms, dens, or other unused spaces as home offices to show buyers how they'll be able to optimize the space to work from home.
You can also set up a small home gym to pique buyers' interest.
"Think versatility," Lindahl says. "Bonus spaces are even more important today, with people spending more time at home."
6. Spruce up the en suite bathroom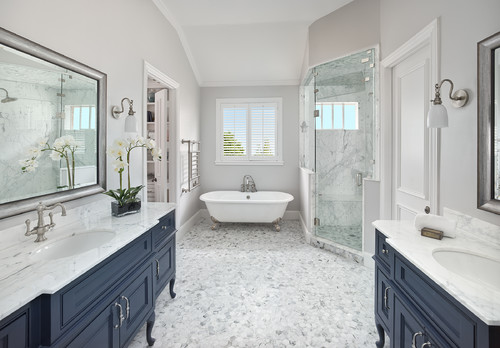 A master bathroom is a major selling point in any house. Just make sure your en suite is clean and neutral—and don't worry about adding any expensive flourishes like jetted tubs.
"We're seeing the trend of people getting away from those huge Jacuzzis," Whittaker says. "We're going to start seeing more simple, streamlined, elegant tubs. You can go with a claw-foot if that is the style of your house."
Larry Mitchell, Texas Realtor®
254 681 5115
Chris Mitchell, Texas Realtor®
254 291 2832
LMSells@aol.com
www.HarkerHeightsHomes.com