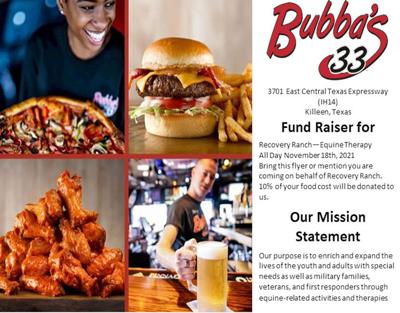 Bubba's 33 in Killeen is hosting a fundraiser for Recovery Ranch all day on Nov. 18.
Guests can bring in a flyer promoting the event to Bubba's 33 at 3701 East Central Texas Expressway or mention they are there on behalf of Recovery Ranch to give 10% of their food cost to Recover Ranch.
Recovery Ranch is an equine therapy center designed to enrich and expand the lives of the youth and adults with special needs as well as military families, veterans and first responders through equine-related activities and therapies.
To learn more about Recovery Ranch, go to https://www.horsebackridingtherapy.com.
Larry Mitchell, Texas Realtor®
254 681 5115
Chris Mitchell, Texas Realtor®
LMSells@aol.com
www.HarkerHeightsHomes.com