By Taylor Cooper Herald Correspondent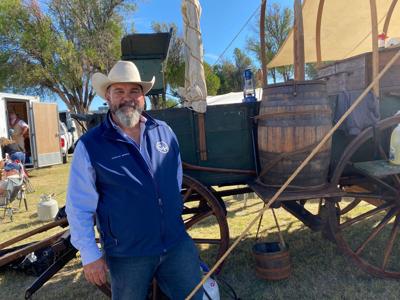 FORT HOOD — Military families were treated this Saturday at Fort Hood's annual Fall Festival where they were served food by the organization Cowboy 4 Heroes.
The organization is led by Charles "Chuck" Norris and Greg "Hollywood" Lyles, two men from military families who are giving back to soldiers and veterans by providing them meals. In the last 14 years, the cowboy group has already served over 1.5 million meals.
"We are the first generation of our families to not serve in the military, so we have a calling to serve the military and that's why we do it," Norris said.
The event was more than just a place for people to come eat — it also served as a history lesson.
Cowboys 4 Heroes cook food in the authentic cowboy way such as serving up coffee that is brewed from a kettle that hangs over a fire and biscuits cooked in a pan.
III Corps and Fort Hood deputy commander, British Maj. Gen. Michael Keating, also came to the event and thanked Cowboys 4 Heroes for serving local troops and families.
"I think it's incredible," he said. "For me, this is what Texas is all about and this is what community is all about. The generosity of these people who are coming out and feeding people is incredible."
Cowboys 4 Heroes serve their food from wagons that date back as far the 1870s. To Norris, the wagon serves as a symbol since it was what brought people the food back in the day.
Larry Mitchell, Texas Realtor®
254 681 5115
Chris Mitchell, Texas Realtor®
254 291 2832
LMSells@aol.com