All-cash offers continue to trend in the current market
BY MYRNA TRAYLOR
As many REALTORS® navigate frenzied housing markets, buyers are trying to find any way to set themselves apart and have their offer accepted. One method is to make an all-cash offer.

Cash home purchases have always been an option, but most buyers just avail themselves of a mortgage lender and spread out their costs over years (and take a mortgage interest tax deduction). But lately, despite historically low interest rates, more buyers are coming to the table with cash in hand. In fact, NAR's REALTORS® Confidence Index Survey showed that 25% of spring 2021 home sales were made with cash, a notable increase over 15% in 2019 and 20% of sales in 2020 for the same period.
One of the major advantages of all-cash transactions is speed. Buyers with cash in hand don't need to wait for financing and can waive some contingencies, such as appraisal or sale of a previous home. Sellers who want a quick closing find this very appealing.
Digging into the details
Nevertheless, the showing, offer and contract portions of the process must be handled, and there may be bumps along the road.
"It's amazing how many people have cash to do deals," says TJ Schroeder, CRS, broker associate with Berkshire Hathaway in Palm Desert, California. She counsels sellers to remain calm, even though a cash offer may appear very tantalizing. "Just because you have an all-cash offer doesn't mean it's the best one," Schroeder says. She urges prospective buyers to give their best offer first. "Don't think that I will be coming back to you and asking you for highest and best," she says. The market is so hot that multiple offers are almost guaranteed.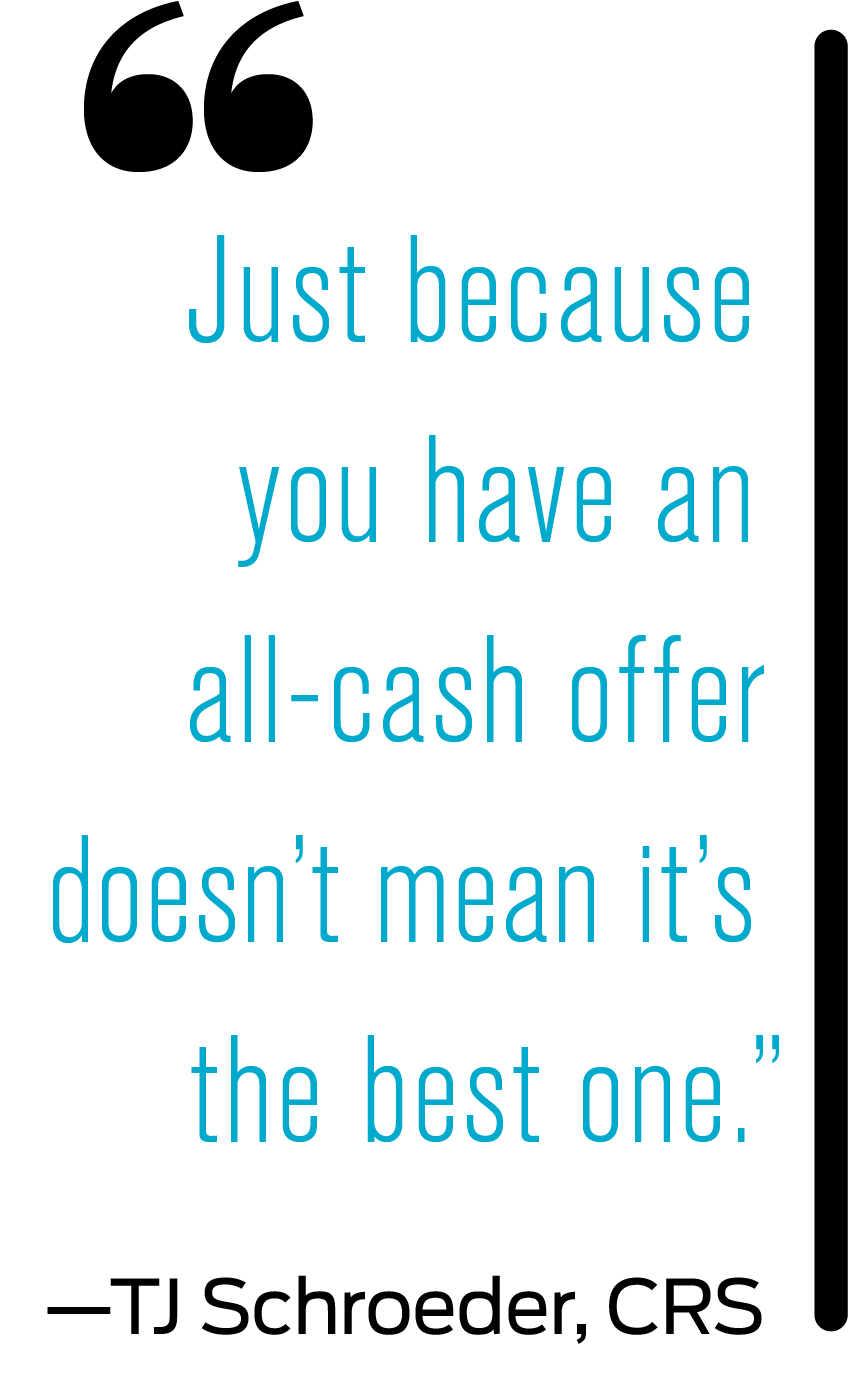 When Schroeder represents cash buyers (who aren't investors), she counsels them to be calm as well. "They get excited because they have the resources to buy [what they see immediately]. When we're working in their price range, I try to temper their emotions a little bit" and help buyers make sure they are getting the best value for their money.
Some cash buyers get a little cocky and offer negligible down payments of say, 3%, which doesn't compare well to a buyer with lending who's putting more money down.
"I realize it's all cash and you have the proof of funds," says Schroeder, "but don't you want to show something to the seller? The person who's offering 25% has already made a strong commitment to the property."
Carl Medford, CRS, with Keller Williams Benchmark Properties in Fremont, California, says that all-cash offers in the Bay Area have actually declined. "We typically see cash offers from investors," he says. "When you get to the price point that we're operating at in our markets, it no longer makes sense to invest in this area. We used to see a ton of offshore money coming in, snapping up properties, and that money has relocated to lower-priced markets, like Texas or Arizona."
However, Medford has enough experience with all-cash offers to protect his sellers from deals going sour. "People coming in with cash seem to think that they can get it for a lower price," he says. "I understand the logic at some level, but our job is to get the seller the highest price possible. So, in the majority of cases, the cash offers represent the lower end of the offers that we would get in a multiple-offer situation."
On the flip side, Medford says that a cash offer above list price with few or no contingencies moves the offer to the front of the line.
Watch out for bad bidders
Investors who are looking for homes to rent or flip are perennial cash buyers. But some of them think they can get away with bad behavior that other buyers can't indulge in. "We call this 'the games investors play,'" says Medford. "An investor puts in a cash offer that defeats everybody else's offer and then neglects to get their deposit into escrow in a timely fashion. In the meantime, they'll come in with their inspector or contractor, then come back to the seller and say, 'Well, you know our deposit isn't in escrow, so you really don't have a contract until that money's there, and oh, by the way, we're going to offer you substantially less.'"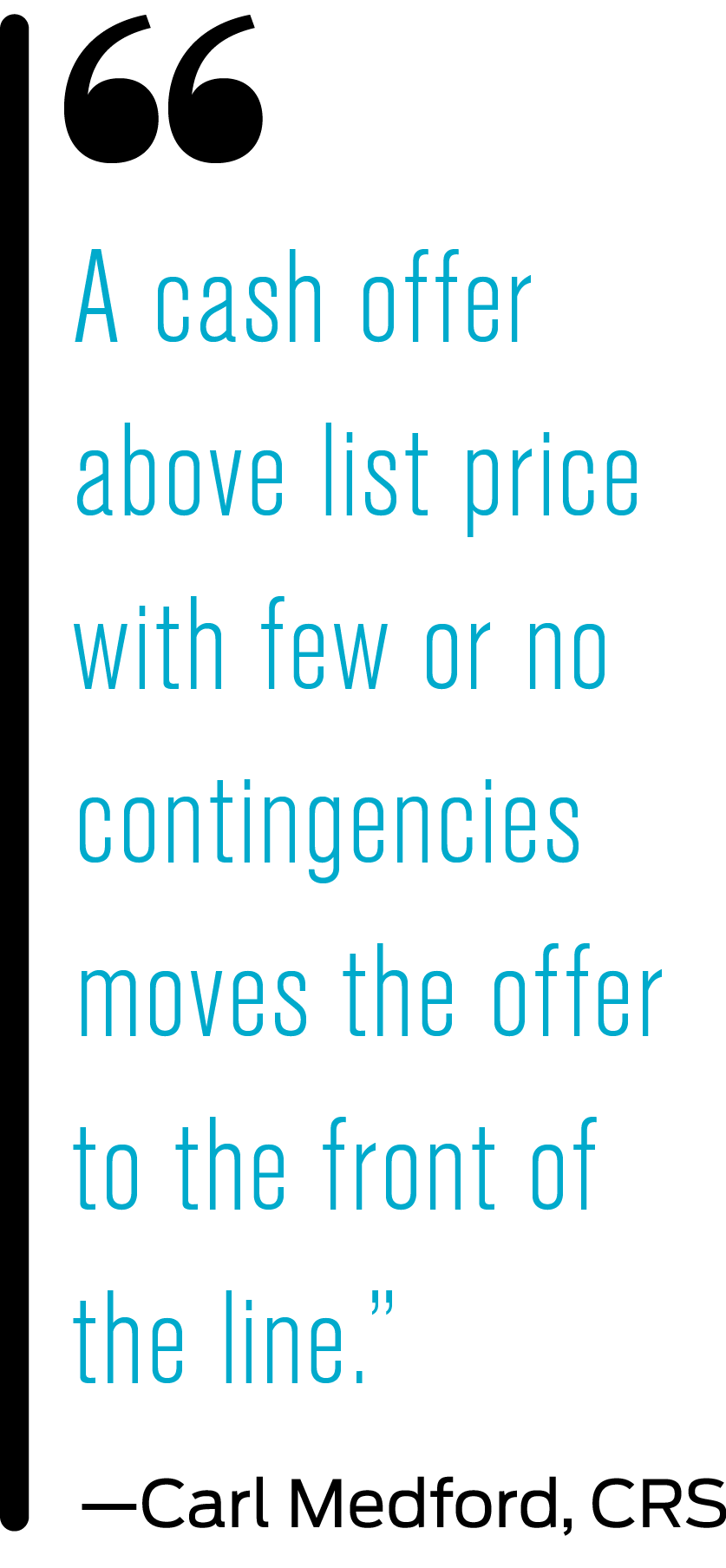 Medford's defense against these shenanigans is to include a requirement in the counteroffer that says the good faith deposit must be in escrow within 24 hours. "Acceptance of this contract constitutes 24-hour notice to perform," quotes Medford. "If [the cash] is not there in 24 hours, we say, 'Good luck.' And the second thing we add to the counter is language saying the price will not be renegotiated under any circumstances; property to be purchased completely as-is."
Steve Rath, CRS, a broker with Better Homes Realty in Granite Bay, California, also has dealt with bad-faith offers. He reports that there are "tons of cash offers on low-priced homes, but those same buyers are throwing out three, four or five offers [on multiple properties] at a time—which is illegal, by the way. They might get three accepted, then they bail on two and keep the one they want.
"I really caution [my sellers] against cash offers," he continues, "especially from rookie agents or agents not from the area because you never know the quality of that offer." He also uses the counteroffer to eliminate any wiggle room for unreliable prospects. "I write out deadlines that they need to meet, and I submit the disclosures with the counter, which starts the clock, so they don't have 10 days—they have two days. I make it so tight that if they are a real cash buyer, they can meet those goals. And if they're playing games, they won't."
Larry Mitchell, Texas Realtor®
254 681 5115
Chris Mitchell, Texas Realtor®
254 291 2832
LMSells@aol.com