Picture walking into your dream house and being greeted by inviting scenes of summer relaxation throughout. Maybe there's a short stack of beach reads next to the pool, or a pitcher laid out with chilled glasses, all ready for you.
This is what vignette staging is all about: drawing in buyers with curated scenes that showcase your home's top features. It's even better if they evoke the mood of the season.
So if you're looking to sell your house quickly this summer, keep reading to master these four fresh vignettes that are guaranteed to make buyers swoon.
1. A dreamy front porch

Photo by Houzz 
"Nothing says 'welcome home' like a well-designed front porch," says Sherri Monte, founder of Seattle interior design company Elegant Simplicity. "Whether it's a hanging swing with accent pillows and throw blankets, or a pair of rocking chairs with a side table in between, a good first impression starts at the front door."
Go the extra mile by adding several magazines or books with a decorative coffee mug or wineglass. Monte even suggests adding a small rug or accent greenery to complete the look.
"Vignettes work because they create a story in the buyer's mind," says Justin Riordan, interior designer and founder of Spade and Archer Design Agency.
Just by looking at your front porch vignette, potential buyers might imagine a summer afternoon relaxing in a rocking chair, or watching their children or grandchildren play in the yard.
"The story may or may not be true," Riordan says, "but if we, as the seller, can make them feel desire for the type of lifestyle they crave, then we've done our job."
2. An enticing entryway

Photo by JayJeffers
As the second space your buyer sees, the entryway is arguably just as important to focus on when selling your home. To ease buyers into the summer vibes, try pairing a large vase with freshly cut flowers on an entryway table.
"A tall vase, one that adds whimsical personality and maintains a transitional style with greenery, will create a light and airy vibe," Monte explains.
Add a few soft-scented candles and a linen tea towel. Remember to limit the number of objects in your vignettes to avoid the scenes becoming overcrowded.
"Layer in tones and elements found outside during the summer, but don't be afraid to leave a little breathing room," Monte says. "Repeating colors and elements that we see outside is a great way to subconsciously create continuity."
3. A fresh, breezy kitchen

Photo by Lowe's Home Improvement
Everyone loves a clean, fresh-feeling kitchen. So go ahead and throw open a few windows before the buyers arrive.
But don't stop there. Summer is easily the best time of year to use colorful produce to your advantage—and not just while cooking. The next time you visit your local farmers market, make a plan to pick up a few extra-bright veggies or fruits for display in your favorite bowl.
Forgo the freshly cut flowers in favor of a small potted plant, something fragrant—like rosemary or basil. Place these items on a wooden cutting board or textured mat with folded cloth napkins to complete your countertop vignette.
Another great kitchen vignette is what Riordan likes to call "the drink setup," which consists of an empty pitcher and six empty glasses on a tray with cloth napkins.
"This can be placed on a kitchen counter, and it speaks to having guests over on the front porch and preparing to have drinks brought out to them," Riordan says.
A word of caution: "Do not—and I repeat, do not—fill the pitcher with liquid or fake liquid," he says. "It takes the gentle whisper of the vignette and turns it into a desperate scream of fakery." When it comes to vignettes, subtle is best.
4. The perfect backyard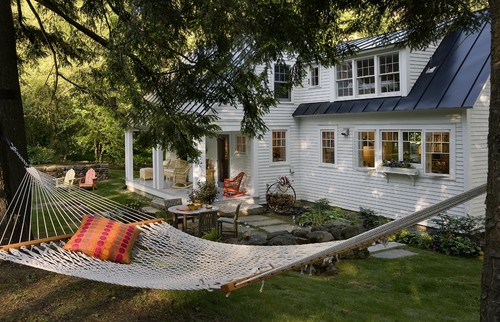 Photo by Smith & Vansant Architects PC
If you have any outdoor space to speak of, you'd do well to consider throwing in an outdoor vignette or two.
"If your outdoor space has room for a dining table, why not set that table with a gingham tablecloth, picnic basket, and a set of outdoor dishes?" Riordan says.
For vignettes like these, stick to a single color scheme.
"If every outdoor vignette has multiple colors, it will appear chaotic in listing photos," he says.
Another simple summertime vignette can be built around a hammock. String one up between two trees and add a pillow and a light blanket.
"Suddenly your buyer has a great place to read and relax," Riordan says.
The final word
No matter which spaces you decide to stage, it's good to have a central object and build your vignettes from there. A fire pit, for example, might call for some stacked wood, a lantern, and a cozy flannel blanket. The pool might do well with a lounge chair and a folded beach towel paired with a large brimmed hat.
Having a focal point keeps things from getting too chaotic.
"Vignettes are designed to be a bite-sized section of the overall home, so you want them to create cohesion and harmony," Monte says.
Keep these guidelines in mind as you create the dreamy summer home your buyers can't wait to get their hands on.