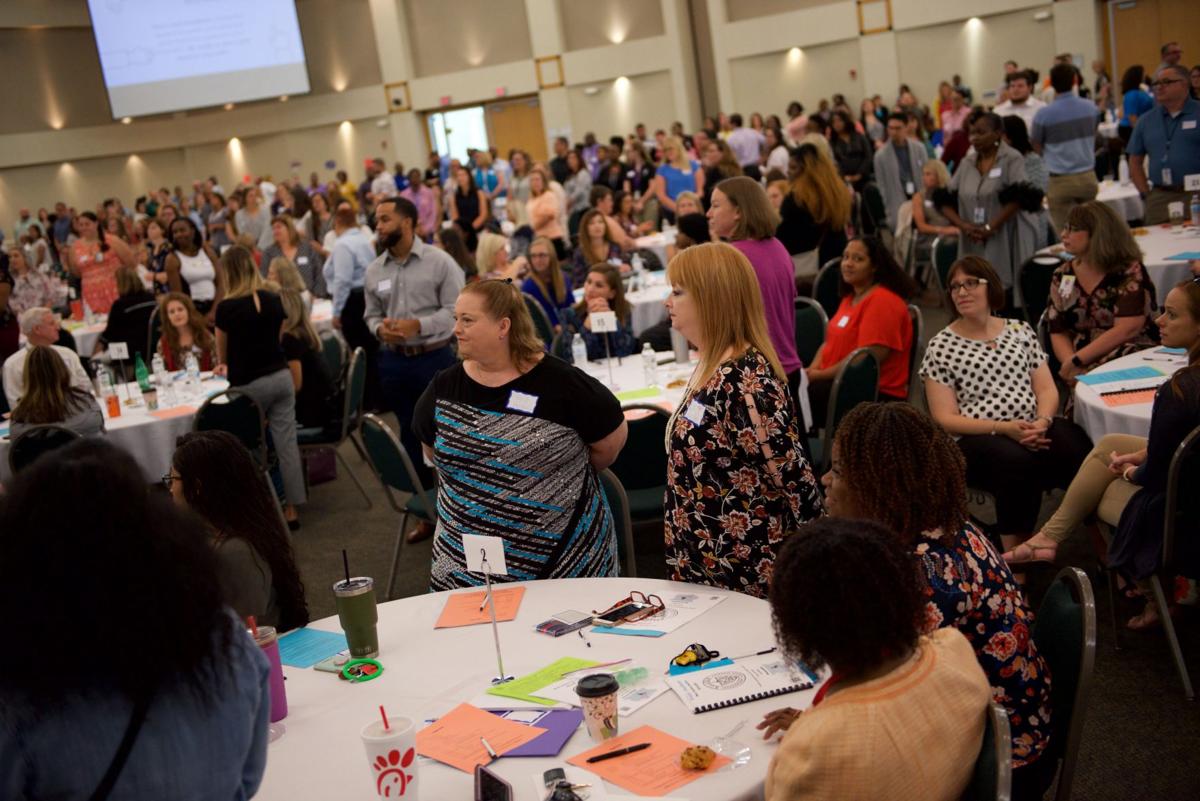 With encouraging words and motivating testimony, Killeen ISD leaders embraced its newest teachers this week with a warm and informative welcome.
About 384 new teachers and 175 other new school district staff members joined principals, assistant principals, mentor teachers and other key supporters for the district's annual New Teacher Induction Tuesday at the Killeen Civic and Conference Center.
Superintendent John Craft welcomed the new teachers, praised key community partners and shared the area's rich history from its origin as a railroad switching station and cotton shipping center in 1882, to Fort Hood's beginnings during World War II all the way to the community's current, continued growth.
The school district's uniqueness, he said, goes well "beyond brick and mortar to quality instruction. It goes back to you."
III Corps Chief of Staff Col. Henry Perry also greeted new teachers, pointing out the military installation that covers 342 square miles and trains 36,000 active-duty soldiers and airmen is known as "the Great Place" because of the people it supports.
The Fort Hood Adopt-A-School program includes nine area school districts, with Killeen easily the largest. Its more than 45,600 students include 15,000 with military connections.
Teachers and other school staff, Perry said, have the high privilege of supporting military families. "You're more than educators," he said, pointing out teachers serve as comforters, diplomats, even super heroes.
At times during the welcome, school district leaders directed the new educators to collaborate at their tables to discuss what they learned about the community. Each employee also wrote "letters to me" regarding the upcoming school year which they will receive later in the term.
"I'm excited," said new Patterson Middle School teacher and coach Toraric Wade. "This is a wonderful opportunity. The energy is amazing. The presentation made me feel welcome."
"I'm very excited to start," said new Clifton Park Elementary School music teacher Josie Ortiz. "I have a great mentor teacher. This has been very motivating."
Her mentor, music teacher Shannon Gallinger, is the district's current elementary teacher of the year. She welcomed the new staff members sharing memories of her first year of teaching.
She was a college student in Wyoming when she first heard about Killeen at a job fair. That led her to begin teaching fifth grade at Duncan Elementary School on Fort Hood in 2004. Supportive colleagues encouraged her to take time for herself and for her daughter, who was diagnosed with a heart ailment.
Her daughter went on to be the 2017 valedictorian of Ellison High School. It was teachers, Gallinger said, who helped convince her she had no limitations to what she could achieve. "In KISD, we choose the best," she said. "You are the best."
During his introduction, Craft pointed out KISD is the 25th-largest school district in Texas and growing. It employs 7,500 people and occupies 6.7 million square feet of building space.
This year, the district is opening Maude Moore Wood Elementary School. Construction continues on numerous improvements and additions, four elementary schools, a middle school and a high school.
The school district received an 86 rating in the state's accountability system, up 10 points from a year ago. Also, the board recently approved a 6.6 to 10% teacher pay raise, bringing the starting teacher salary to $50,300.
For Jennifer Lezovich, a new math teacher at Shoemaker High School, her first teaching assignment out of college is a homecoming. She graduated from Killeen High School in 2013 and earned a KISD scholarship.
"It's crazy," she said. "It's exciting to see people here who inspired me and who are now my peers. I look forward to learning from them and hope they might even learn from me. This is a moment I've been working toward and it's finally here."
Todd Martin is an employee of the KISD communications department and writes about students, teachers and school events.