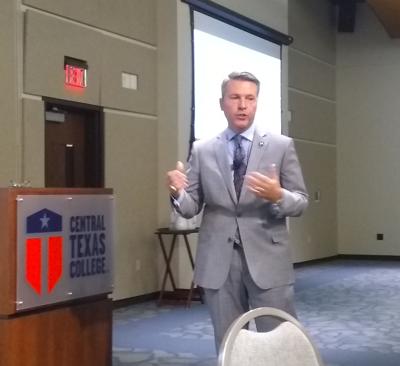 At a Killeen luncheon Wednesday, Texas Rep. Brad Buckley, R-Salado, informed District 54 constituents of what lawmakers in the 86th Legislative session accomplished.
Buckley spoke to 92 people at the event put on by the Greater Killeen Chamber of Commerce on the campus of Central Texas College.
He spoke of the things he helped accomplish and also provided transparency of some of the things that were left unfinished.
One of the accomplishments Buckley felt was most significant to the local area was the passing of House Bill 3 which addressed public education funding.
As a part of the accomplishment, legislators were able to secure $5 billion in property tax relief, $4.5 billion in transformational reforms, $2 billion in teacher pay raises and a $3.6 billion reduction of recapture statewide.
Three of the transformational reforms include an increase in allotment per student, full-day pre-K for low-income students and dyslexic identification programs.
Buckley also helped secure an additional $2.3 million in funding for Texas A&M University-Central Texas in Killeen.
"We were very persistent on this," Buckley said.
He noted that the success of Killeen goes hand-in-hand with the success of A&M-Central Texas.
"As they go, we go," Buckley said.
With the increased funding, Texas A&M-Central Texas will be able to offer more credit hours and will be able to retain faculty members.
One of the members of the luncheon, Ken Cox, chief operations officer for Workforce Solutions of Central Texas, said he appreciates the work Buckley did with getting House Bill 3 passed.
"He will be forever known as a champion of House Bill 3, and for everything he did for the citizens and future citizens of the state of Texas," Cox said.
Buckley, a longtime Killeen veterinarian, pointed to other funding accomplishments of the legislative session that he said will impact the Killeen area:
$30 million for the Defense Economic Adjustment Assistance Grant.
$5 million for the Texas Indigent Defense Commission.
An increase in funding for Texas Veterans Commission, Women Veterans Program, Veteran Entrepreneurship Program and Veteran Treatment Courts.
One of the items left unfinished that Buckley vows to work harder on if re-elected is to pass a bill to reimburse additional cities when they lose property tax revenue due to the 100% disabled veteran exemption.
Under the current state law, veterans who are classified as 100% disabled have a 100% exemption on their property taxes. For Bell County, that is significant, as Buckley said there are approximately 8,000 veterans who meet the 100% disabled designation.
As of right now, only Killeen and Copperas Cove are eligible for the funding reimbursement because they are adjacent to Fort Hood. Buckley said the proposed bill would extend the reimbursement to Harker Heights and Nolanville.
The bill made significant headway in the House, with a unanimous vote in favor of it. Buckley said, however, the bill never made it to the Senate floor.
Cox, who is a retired major general, said it was one of the most difficult issues to take on. He applauded Buckley's efforts and how much headway he made with the bill.
Buckley will also open a new office in Salado today. He said he will continue to work on constituent issues even though the legislative session is over. He has another District 54 office already open in Lampasas.
"The reason behind my offices was service," Buckley said.
The House Republican Caucus named Buckley Freshman of the Year in the Texas House of Representatives in May.
Larry Mitchell, Texas Realtor
Broker Associate, ABR, CRS, GRI
Click Here to See What Your Home is Worth
254 681 5115 Cell
LMSells@aol.com
Jim Wright Company Residential Sales
3800 So. W. S. Young Drive Suite 103
Killeen, Texas  76542