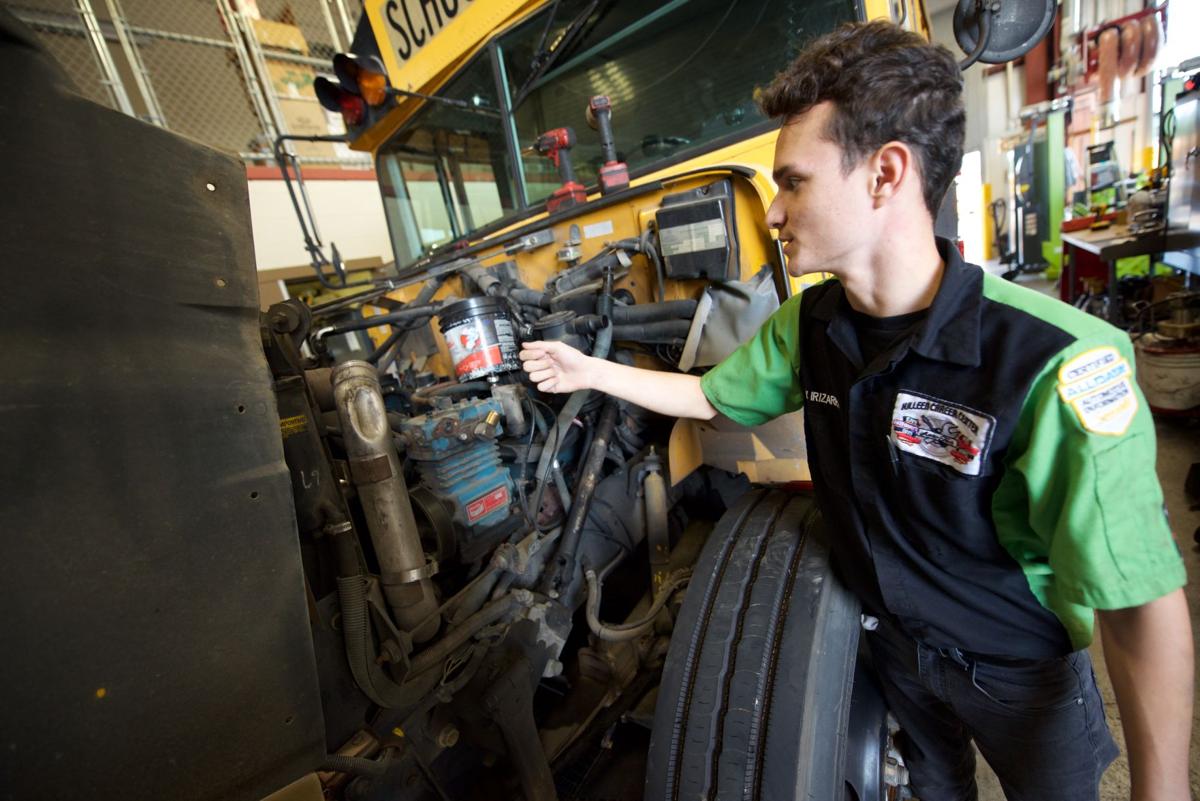 For four Killeen ISD high school students, "getting their hands dirty" was part of the criteria for the perfect summer job.
Incoming KISD Career Center junior Victor Irizarry-Valle and seniors Scotty Flores, Jose Sanchez and James Otis have been logging 19-hour weeks working Monday and Tuesday this summer in the school district's two transportation department mechanic shops.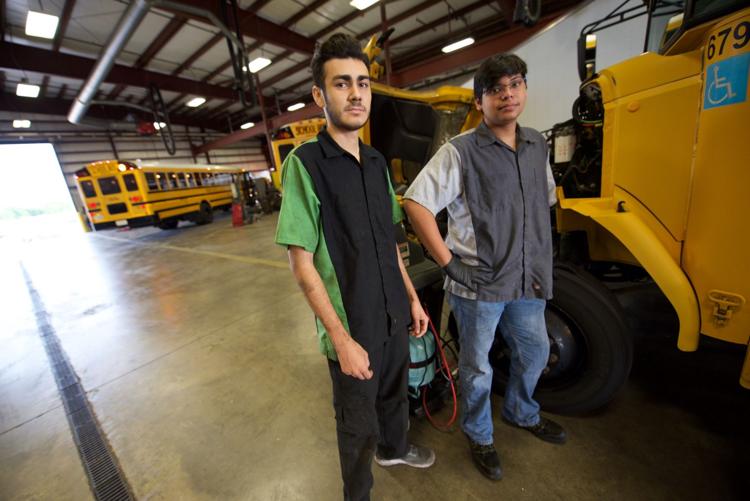 All four have completed the initial year of automotive coursework at KISD's career-focused high school and all are scheduled to continue the program in the coming school year.
Killeen ISD Transportation Senior Shop Foreman Doug Martel said the students have been a welcome addition to his pool of 18 mechanics inspecting and trouble-shooting diesel and gasoline engines in the school district fleet.
Last summer, transportation interfaced with the Career Center and Principal Russell Porterfield and piloted the summer internship with a single student.
A year ago and again this year, interested students applied for the posted mechanic positions, interviewed and were selected, "just like any job," said Martel.
"I talked with Mr. Porterfield and the teachers at the Career Center and we wanted to make it 'real world,'" the shop foreman explained. "They are doing everything the mechanics do."
The school district's transportation department maintains two automotive shops – one on Atkinson Drive down the street from the district Administration Building and the main transportation offices and one, opened since 2015 on West Trimmier Road in the burgeoning south part of the district.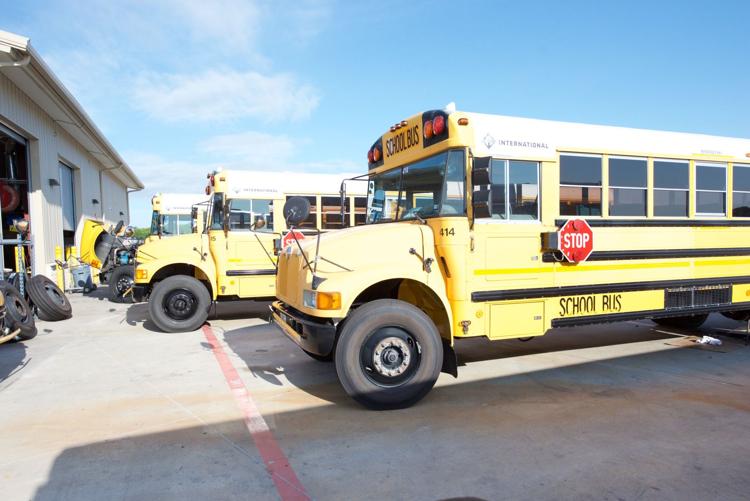 This year, one student, Irizarry-Valle, is working in the smaller Garland D. Sheridan Transportation Facility and the other three work in the central facility.
While the transportation operation never ends, with summer school beginning the week after the school year ends and continuing into August, the slower months allow mechanics to catch up with required vehicle inspections and routine maintenance, Martel said.
"We try to finish what we don't have time to do during the school year," the senior foreman explained. "(These students) give me extra people and it is a benefit to their education."
"It has been a great learning experience," said Flores, stepping away briefly from inspecting the air conditioning system on a bus for leaks. "I've met a lot of new people and developed understanding of the automotive field."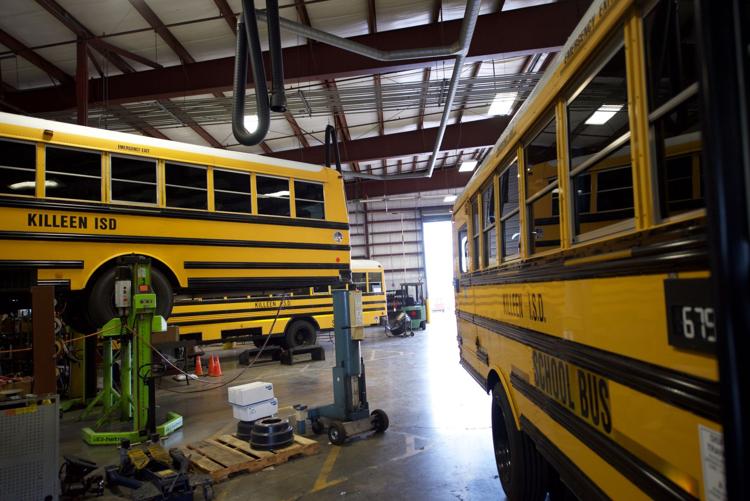 The incoming senior said he entered automotive to gain a practical life experience, but the coursework and this summer's experience have validated the field as a likely career option. He's also interested in engineering and aviation.
"It's been great," said Sanchez. "People here are teaching us and they don't judge us. I'm happy to learn."
"I knew this would be hard labor, that I would be getting up early," he said. "I knew it was a big deal. I like the problem-solving."
Sanchez said his decision to attend the Career Center was the best educational choice he could have made. "If you know what you want to do, it really prepares a pathway for you. It's a great environment."
"It's good. I've learned a lot," said Irizarry-Valle, who is working across town at the newer district shop in south Killeen. "I've gained a lot of knowledge in how to work with engines. There are awesome people helping me out."
He plans to attend a technical college and is interested in learning to work on marine and aviation engines and one day to open his own business.
"I love working on cars," he said. "It's my passion. I like it here. I've learned a lot and I know I have more to learn. I love working on the buses and I love these people. They help me out. They let me put my hands in this," he said of a high-pressure oil pump to be replaced.
A 35-year auto mechanic with 23 years of experience in KISD, Martel said he graduated from a vocational high school and has worked in numerous mechanical environments.
"I went to a school where we only had classroom learning," he said. "What better way to learn than to work all day and get dirty and sweaty? It will make or break you. They leave here sweaty and dirty and say I'll see you tomorrow."
Larry Mitchell, Texas Realtor
Broker Associate, ABR, CRS, GRI
Click Here to See What Your Home is Worth
254 681 5115 Cell
LMSells@aol.com
Jim Wright Company Residential Sales
3800 So. W. S. Young Drive Suite 103
Killeen, Texas  76542