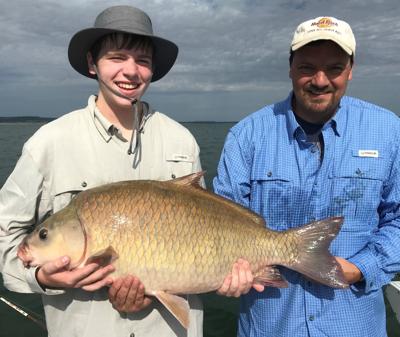 Earlier this month I welcomed Dan Gretch and his 16-year-old son, Blayne, both of Helena, Montana, aboard for a morning of white bass fishing. Gretch was a guest speaker at the University of Mary Hardin-Baylor, and wanted to spend some time in the outdoors with his son following the speaking engagement.
We downrigged for a while, picking up a few fish, and then switched over to fishing vertically with tailspinners while watching our presentations, and the fishes' reaction to them, using the new Garmin LiveScope technology.
This particular morning, the fish were cooperative, and we grew accustomed to seeing the dark red, football-shaped white bass signatures come and go, always in small groups, on and off the screen. As we fished, I was positioned in the middle of the starboard (right) gunwale, with Dan to my right and Blayne to my left.
Our lures appeared in this same order on the 12-inch sonar screen we were all focused on. Suddenly, this hulking mass of a fish, many times larger than any white bass we had caught, appeared from out of nowhere, chased Blayne's tailspinner about 10 feet off bottom and struck his lure. All Blayne could do was hold on.
This happens about 10 or 15 times each season. While hovering over a school of white bass in open, deep water, concentrating on feeling the strike, one of my clients will set the hook and, instead of reeling the fish in, they grab onto the rod with both hands just to keep it from being pulled overboard while listening to the drag just give out line freely.
When fishing Belton Lake, which is stocked with hybrid striped bass, the first suspect is one of these hard-fighting, line-sided fighters from the temperate bass family. Over on Stillhouse Hollow, which is not stocked with hybrid, the likely culprit is a tad easier to guess.
Regardless of water body, as the fight on light tackle intended for smaller species goes beyond one minute, then beyond two, then three, the pool of suspects narrows considerably.
When the fight is nearly concluded, more often than not it is a smallmouth buffalofish which comes to net.
Such was the case for Blayne Gretch. His fish measured 33 inches and its weight exceeded the capacity of my 30-pound scale. His smallmouth buffalo simply dwarfed everything else we landed that morning.
Often mistaken for a carp due to its downturned sucker-like mouth, the smallmouth buffalofish, or buffalo for short, lacks the short, fleshy barbels found on either side of the sucker-like mouth of a carp.
Buffalo may range from slate grey to a fleshy peach coloration, depending on the water and depth they are taken from.
Smallmouth buffalo are the only buffalofish with the downturned sucker-like mouth; bigmouth buffalo have a mouth more closely resembling that of other fish, like crappie or bass.
Buffalo are a favorite target of bowfishermen thanks to their great proportions, tendency to frequent shallow water under cover of darkness, and the great numbers of them found in waters typically receiving little fishing pressure for that species.
Due to their unfortunate, unofficial classification as a "trash fish," these same characteristics have failed to endear them to rod and reel anglers.
According to the Texas Parks and Wildlife Department, "Although some anglers consider smallmouth buffalo to be a rough fish, in many areas the species is highly prized. Specimens in excess of 82 pounds have been landed by rod and reel anglers, whereas the trotline record is 97 pounds in Texas."
The current rod-and-reel record for smallmouth buffalo on Stillhouse Hollow is 47.5 pounds.
Belton Lake's rod-and-reel record for that species is 36.5 pounds.
TPWD also points out that, "Many people may be unaware that smallmouth buffalo is quite a food fish. It is the number one species sold by commercial freshwater fishermen."
Buffalo are a non-game species, which simply means there is not a size limit nor bag limit assigned to them — anglers can catch and keep (and eat) as many as they wish.
One local angler who specifically targets buffalo for the sport they provide is Morgan's Point Resort resident Jerry Morgan. Morgan fishes from the bank for buffalo on Belton Lake and catches 15-plus-pound fish routinely.
Morgan shared his favorite, two-ingredient, no-cook, buffalo bait recipe with me and granted permission for me to share it with my readers.
The two ingredients are Big Red soda and plain, dry oatmeal. I made a batch of Jerry's bait just so I could describe clearly to you how to go about making a batch.
So I could be exact, I used a kitchen scale which measures in grams to weigh both the soda and the oatmeal.
After combining 110 grams of Big Red soda (approximately ½ liquid measuring cup) with 100 grams of oatmeal (approximately 1 dry measuring cup), I stirred these two ingredients together in a glass bowl using a fork for four minutes at room temperature.
As I began stirring, the concoction looked like a batter, then began to thicken into a dough. Once the dough was stiff and mixing didn't seem to do much more, I left the blend to sit and stiffen for 10 more minutes as suggested by Morgan.
The doughbait, which was colored bubblegum pink, was stiffened and very tacky at the end of 10 minutes.
To test the durability, I formed three doughbaits, each about the diameter of a nickel, onto a #6 treble hook and let them soak in a glass of water for 15 minutes. The baits all endured this immersion test very well.
I noted that the more time I spent packing the dough tightly onto the hook, the longer the doughbait lasted, with the most tightly packed version not coming off the hook after a full 25 minutes under water.
The doughbait is extremely sticky and, after packing it onto the treble hook well, you will need to rinse your hands off, but such is fishing!
"(The doughbait) usually stays on until you get a bite, if mixed well. (It) makes a good dough most of the time. If I don't get a bite in 10-15 minutes, I check my bait," Morgan said.
Morgan indicated the bait will keep for about 2-3 days.
Morgan recommends fishing this bait by suspending it slightly off the bottom with a split-shot or other small weight placed a foot or so up above the hook. This is easily done when fishing from a boat, floating dock or fishing pier.
If you must cast the bait, lobbing it gently with a long, soft-action fiberglass rod which flexes uniformly from tip to butt is best so as not to tear the bait off during the cast.
Best of luck on your buffalo hunt.
Larry Mitchell, Realtor
Broker Associate, ABR, CRS, GRI
Click Here to See What Your House is Worth
254 681 5115
LMSells@aol.com
Jim Wright Company Residential Sales
3800 So. W. S. Young Drive Suite 103
Killeen, Texas  76542