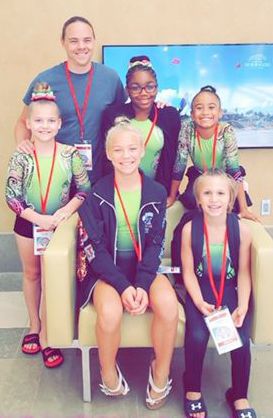 Three athletes from Extreme Cheer and Tumbling became national champions at the 2019 Trampoline and Tumbling Stars and Stripes Championships last weekend in Palm Beach, Fla.
Kae Reynolds (Level 7, age group 11-12), Sanorah Ponger-Cruz (Level 6, age 11-12) and Wyatt Otto (Level 5, age 8-and-under) all became national champions.
Head coach Henry Holloway took five of his athletes to the national championships in Florida. The team found out it was going once it received a qualifying score at regionals.
"So to get to nationals you have to make it to state, then regionals, and once you make a qualifying score at regionals you're on your way to state," Holloway said.
Once the team found out it had advanced to nationals the girls were overwhelmed with excitement, but it wasn't excitement to compete.
"They were excited to travel to Florida," Hollaway said. "This is a vacation for them. It took them awhile to realize that they're competing in nationals. Some adults started to tell them, 'Hey you're the best tumbler in America,'" Holloway said.
Once the adults telling them they are the best tumblers in America got through to them, that is when the real excitement set in.
"It went well," Holloway said. "They're excited. They're ready to get back in the gym and start working again. They're excited to get back and brag to all of their friends that they are national champions."
Reynolds topped a field of 15 with her score of 54.8. Ponger-Cruz (53.5) led a field of 36. Maci Pickle (Level 5, age 10) tied for 13th out of 41. Charli Wozniak (Level 5, age 11) tied for sixth among 42.
With all this excitement from winning national championships, pressure is soon to follow. Holloway said he is feeling pressure to perform next year and get similar results as a coach.
"Absolutely. I'm feeling a lot of pressure now," he said. "You wanna talk about someone who carries stress? I carry stress."
Larry Mitchell, Realtor
Broker Associate, ABR, CRS, GRI
Click Here to See What Your Home is Worth
254 681 5115 Cell
LMSells@aol.com
Jim Wright Company Residential Sales
3800 So. W. S. Young Drive
Killeen, Texas  76548