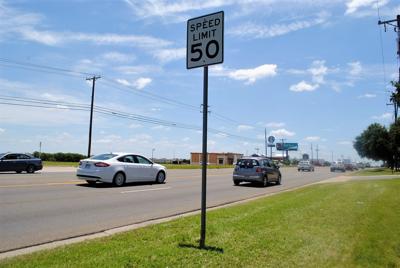 Motorists in north and west Killeen will see a change in posted speed limits.
The Killeen City Council voted unanimously on an ordinance adjusting the maximum speed limit on certain sections of Texas highways 195 and 201, Featherline Road and East Trimmier Road.
Councilman-at-large Butch Menking was absent because he was on a trip, according to Mayor Jose Segarra. Segarra added that his absence was excused.
District 2 Councilwoman Debbie Nash-King left the meeting after her vote on the topic as "she had to attend another event," Segarra said.
According to Danielle Singh, executive director of public works, an ordinance that was approved in February by the council did not take into account the current northern city limits on Highway 201/Clear Creek Road and the southern city limits on Highway 195/Fort Hood Road.
"The proposed ordinance would correct any oversights and codify existing posted speed limits for certain sections of the various areas," Singh said to the council on Tuesday.
Singh added a speed study would be conducted periodically and the ordinance will be brought back to council, "if citizens bring concern."
The new ordinance for Highway 201 will reduce the speed from 50 mph to 35 mph from northern city limits to south of Watercrest Road and increase the speed limits on Highway 195 from 60 mph to 70 mph south of Highway 201 to the southern part of city limits. The new ordinance would also reduce speed limits on Featherline Road from 45 mph to 40 mph and East Trimmier Road from 50 mph to 45 mph.
The ordinance affecting both Highway 201 and Highway 195 will take effect immediately. Hilary Shine, the city's communications director, said the speed limits on Featherline Road and East Trimmier Road will adjust "as soon as signage is up."
In other matters, the council voted unanimously on an updated city employee medical and dental insurance benefits that would take effect Oct. 1.
The cost for health care will increase by 4% over a four-year period and the plan would change from the United Healthcare Choice to UHC Navigate plan design. The option increases the employee-only premium from $421.78 per month to $438.65 per month.
Approved Capital Improvement Programs for fiscal years 2020-2024, which include high price improvements such as $2 million for Chaparral Road wastewater improvements and $10.8 million for water and sewer projects for FY20.
Approved a resolution appointing council members to various boards and commissions.
Approved amendments to T-Mobile leases for cell sites at Fire Stations 3, 5 and 7.
Approved a resolution authorizing an updated traffic signal maintenance agreement with the Texas Department of Transportation and terminate the existing agreement. TxDOT has requested that the current agreements be terminated while simultaneously executing a new traffic signal maintenance agreement that incorporates new signals and clarifies maintenance responsibilities and reimbursements. The city currently provides monthly maintenance on 96 intersections. There will be no fiscal impact.
The approval for the distribution of the community development block grant and HOME grant money was tabled until the Aug. 6 meeting.
mbrand@kdhnews.com | 254-501-7567