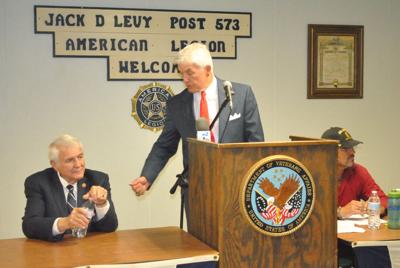 HARKER HEIGHTS — The Department of Veterans Affairs has opened solicitation bids for a contractor to open medical clinics in Killeen and Copperas Cove for up to 7,200 veterans at each location, with the ability to grow to accommodate more veterans as needed, officials said Monday.
The locations for the primary health care clinics have not been determined yet, nor has a timeline been established when they will be in operation, said Michael Kiefer, the new director of the Central Texas Veterans Health Care System, The system, which also runs the VA hospital in Temple, will provide updates on when and where the clinics will open as they become available. Officials said there is currently no end date for bids.
The "contract" clinics will not be staffed by VA workers, but rather be clinics contracted to work for the VA. The clinics will have access to VA medical records and work closely with VA facilities, according to the VA.
At an event in Harker Heights Monday, U.S. Reps. John Carter, R-Round Rock, and Roger Williams, R-Austin, formally announced the two new VA clinics will be coming to Killeen and Copperas Cove, which currently don't have any VA clinics.
The congressmen were joined by Kiefer for the announcement, held at the American Legion Post 573 in Harker Heights. Kiefer is a retired Army colonel who once served as the chief of staff of the Carl L. Darnall Army Medical Center at Fort Hood during his 28-year career.
"I understand the importance of providing timely access to quality health care," Kiefer said. "We have over 37,000 veterans who are already registered for care in the Copperas Cove, Killeen and surrounding areas. This is our first step in offering more convenient services to our customers. These clinics will be contracted, but they will be required to meet all the guidelines and same quality standards that VA facilities provide."
Officials said each clinic will be staffed by six teams, with each team consisting of a doctor, nurses and other staff.
Carter, who has been working on behalf of the more than 92,000 veterans in the two counties in his district — Williams and Bell — since beginning his second term in office in 2004, has been working on getting a clinic in Killeen since 2008, he said.
"Sometimes things move a little slow in the government, but you have to just keep on keeping on," Carter said. "Roger and I wrote a letter together — he's been trying to do the same thing for his district — and fortunately we got (the clinics) right here where they will be servicing this whole area."
Carter added that having the clinics close by will also be a good selling point in keeping soldiers leaving the Army from Fort Hood in the area after their service.
"They like to stay close to their health care, and I think they will stay close," he said.
Williams said the top priority and honor he has had during his tenure in Congress has been to work on behalf of veterans.
"With the rapidly growing number of veterans living in the Central Texas region — we see the growth — meeting the needs of our vets is a challenge we must address immediately," he said. "And quite frankly, we must continue to address it because more and more people are coming to live here because of the 'Great Place' (Fort Hood) and what this area is all about."
Williams and Carter both said the clinics will be an upgrade in services provided to local veterans.
"This shows what the veterans truly mean to all of us in this community," Williams said. "Our veterans have sacrificed so much for this country, and all of you deserve to be taken care of now that you're home."