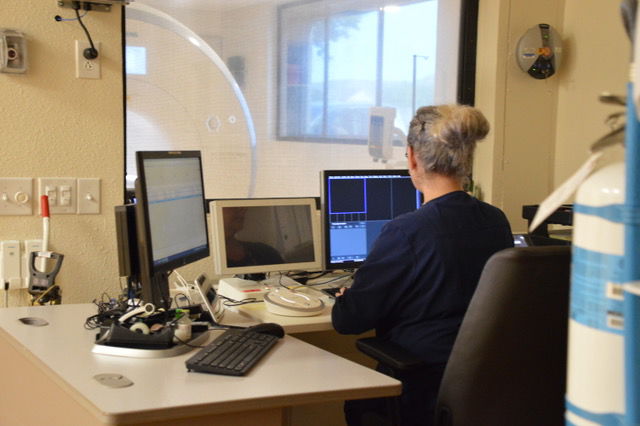 Magnetic resonance imaging, short MRI, is one of the most important diagnostic tools in the medical field. Very often, it is a necessary step to pinpoint exactly what is going on in their patient's body.
Patients at AdventHealth Imaging at Harker Heights can now receive an even higher standard of treatment thanks to new medical equipment.
The facility exchanged their former Magnetic Resonance Imaging, or MRI, machine in June from a 0.3 Tesla with a Magentom Skyra's large 70cm open bore to provide advanced patient care.
"This one is a much more powerful magnet," said Mary Willis, AdventHealth magnetic resonance imaging technologist. "The science of it just means that the resolution is a much better quality."
The 3 Tesla MRI is beneficial for a variety of medical conditions.
"Usually, this is the gold standard for visualizing … any kind of demyelination of the brain, any kind of tumors in the abdomen, gall bladder, constrictions, appendicitis," Willis said. "There are lots of pathologies and it covers the whole gamut."
The images are also important to determine orthopaedical injuries like sprains or hairline fractures.
"3 Tesla is really good for muscular skeletal work," Willis said. "Every orthopaedical doctor would love to get their patients done in a 3 Tesla because … the resolution and quality of the images is so high."
Another advantage of the new medical equipment is the size of the machine itself. Due to the special built of the 3 Tesla MRI, it maximizes the patient's comfort. Individuals who experience claustrophobia, excessive pain or limited mobility can especially benefit from the new model.
A typical exam at AdventHealth Imaging at Harker Heights takes about 30 to 60 minutes.
"If you move, the picture could be blurry and that is normally what causes the length of the exam to be extended exponentially because if it makes a bad picture we are going to have to make it again," Willis said.
Contrary to the CAT scan or computed tomography scan, MRI does not involve radiation but a powerful magnetic field and radio waves to generate detailed images of the human body.
"A CT is just like an X-ray, but it is very fast," Willis said. "That's why it's suitable for emergency procedures if doctors need to know quickly what is going on."
Depending on the patient's overall health and the kind of medical condition, different magnet strengths have different values. AdventHealth provides two additional units, that differ in magnet strength and model type, located within the AdventHealth Central Texas hospital in Killeen.
While the hospital machines are used for both inpatient and outpatient exams, the MRI in Harker Heights is for outpatient tests only.
"It's great to have advanced technology like this right inside the community so you don't have to go all the way out to Clear Creek and struggle with finding parking at the hospital," Willis said.
Patients can expect their medical diagnosis after approximately four days. However, AdventHealth Imaging at Harker Heights is in the process of a collaboration with Baylor Scott & White radiologists, which may make the turnaround even faster in the future.
"They are very proficient, they read very fast, but I can't tell you at this moment what their turnaround time is," Willis said.
While an MRI is an important part of medical diagnostic, the test is not suggested for every patient.
The powerful magnet can attract any metal in a patient's body. Individuals with implanted medical devices like certain types of pacemakers, stents or cochlear implants may not be able to get an MRI exam.
AdventHealth Imaging at Harker Heights uses a special metal detector to make sure the treatment is safe for every patient.
The facility originally opened its doors in 2002. It has been sharing the facility with AdventHealth Wound Care Harker Heights since 2016.
AdventHealth Imaging at Harker Heights is located at 5610 E Central Texas Expy #5 in Killeen. The official opening hours are Monday to Friday from 7.30 AM to 10 PM but appointments can be scheduled earlier if necessary.
Larry Mitchell, Realtor
Broker Associate, ABR, CRS, GRI
Click Here to See What Your Home is worth
254 681 5115 Cell
LMSells@aol.com
Jim Wright Company
3800 So. W. S. Young Drive
Killeen, Texas  76542