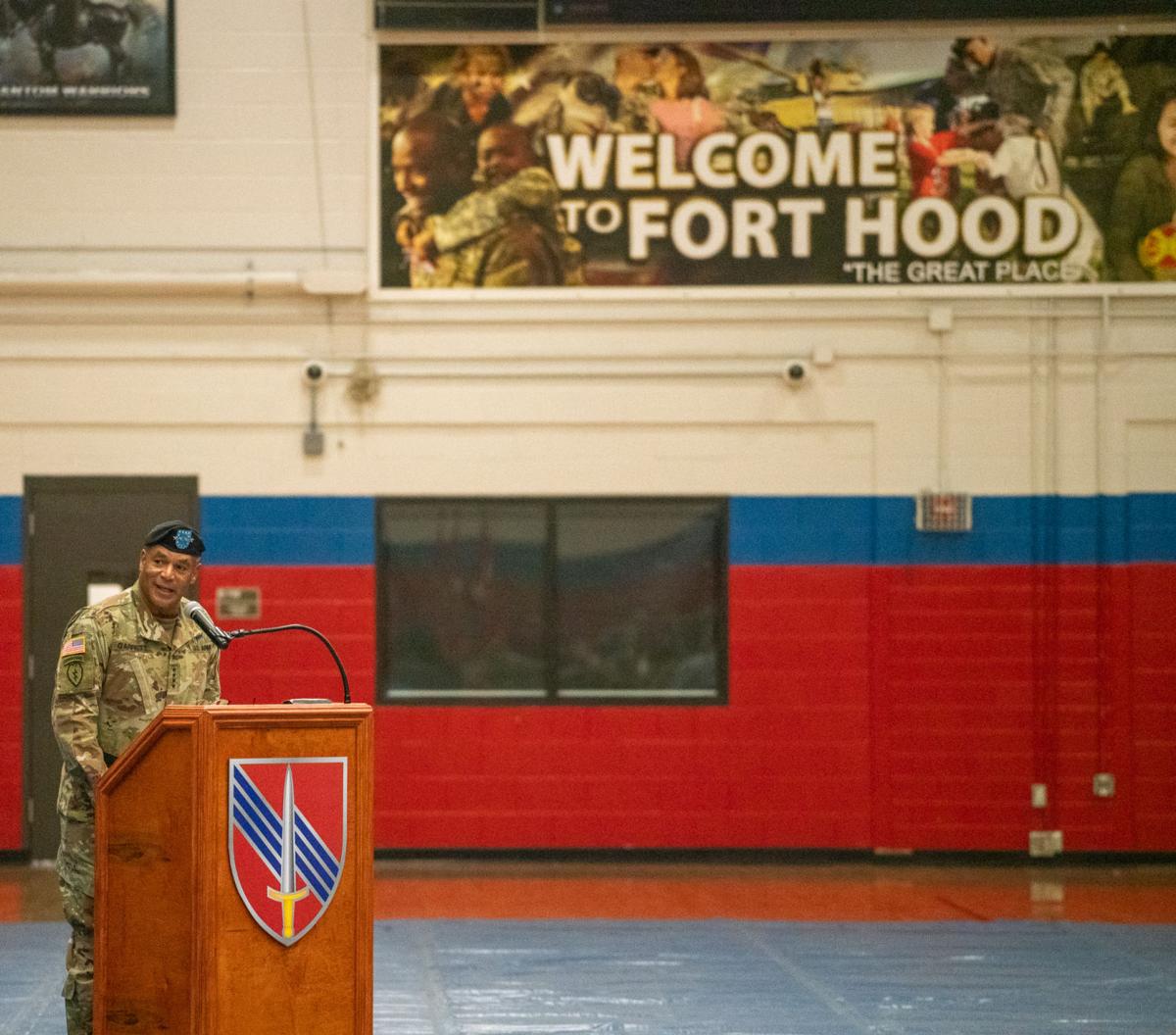 FORT HOOD — The commander of U.S. Army Forces Command, Gen. Michael Garrett, joined leadership from across Fort Hood and others Tuesday to formally activate the 3rd Security Force Assistance Brigade as an official Army unit during a ceremony at Fort Hood's Abrams Physical Fitness Center.
The Army has authorized a total of six Security Force Assistance Brigades, or SFABs. Five are active duty and one in the Army National Guard, according to 3rd SFAB spokesman Maj. Jefferson Grimes. Fort Hood's SFAB is the third to be activated, the two other active duty brigades are in the process of building, and the National Guard brigade has yet to be determined to have a location.
According the Army, the brigades were organized to take over the mission of training, advising, assisting, accompanying and enabling partner and allied security forces. This would allow traditional combat brigades, such as those with the 1st Cavalry Division, to move away from advise and assist missions and concentrate on warfighting readiness against peer or near-peer threats.
The 3rd SFAB command team of Brig. Gen. Charles Masaracchia and Command Sgt. Maj. Raymond Harris uncased the unit colors for the first time during the ceremony to signify the brigade's 820 soldiers are ready to serve the needs of the Army and the nation. The brigade is comprised of six active-duty battalions and one Army National Guard battalion.
The ceremony was hosted by Brig. Gen. Mark Landes, Security Force Assistance Command commander, the brigade's higher headquarters.
"Today's ceremony is about recognizing what the 3rd SFAB has accomplished in less than 12 months," said Masaracchia. "I'll start by saying thank you to the talented men and women of this organization — it is truly an honor to command this team of professionals.
"Every day the team we built amazes me, accomplishing tasks that most units would labor over," he continued. "The work we are doing today will continue to progress and validate the concept of a professional advisor. The support of our families enables us to focus on our training and our mission. You are all incredible, and I'd like to say thank you for your tireless efforts and commitment to your advisor, the 3rd SFAB and to our nation."
The new brigade is scheduled to attend certification training at the Joint Readiness Training Center at Fort Polk, Louisiana, in August, Masaracchia said. Once certified, the brigade will be ready for any mission they are assigned.
Also attending the ceremony was Cheryl Hassmann, field representative for U.S. Rep. John Carter, R-Round Rock.