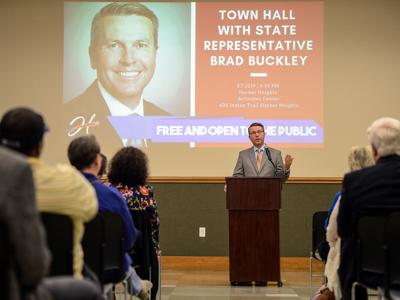 HARKER HEIGHTS — Property taxes and benefits to educators are big-ticket items this legislative season for District 54 Rep. Brad Buckley, R-Salado, who met with residents Thursday night in a town hall.
The event at the Harker Heights Activity Center, 400 Indian Trail, attracted about 50 residents who quizzed the representative on a wide variety of public policy, including property tax reform, further financial support for public education, medical marijuana and more.
"Nothing has been passed yet. There is still vigorous debate going on," Buckley said to the crowd. "But people on both sides are coming together."
House Bill 2 is a key component to shaping how government will be funded for years to come, according to Buckley. The bill proposes a 2.5 percent cap to local government revenue, compared to the current cap of 8 percent.
Lowering the cap will not provide relief in property taxation, according to Buckley. Rather, it "governs" how much residents can be taxed.
Some residents seemed divided when the topic of exemptions for disabled veterans on property taxes was brought up. According to state law, the exemption gives veterans with a 100 percent disability rating from the Department of Veterans Affairs a full property tax waiver on their homes.
Resident Denise Vonderheid said the exemption has become a burden among residents having to pick up the slack on the lost tax revenue.
Preston Millbrook, a disabled veteran who deployed to Iraq and survived a blast, called the criticism an "attack."
Buckley called the exemption a small thank-you to veterans for their service, and said lawmakers are looking for other ways to offset lost tax revenue.
"It's going to be hotly debated, but it's absolutely necessary," Buckley said. The lawmaker said he aims to provide relief for municipalities strongly affected by property tax exemptions, such as the greater-Killeen area, in future bills while maintaining the exemptions.
Talk of House Bill 3's provisions to provide an additional $9 billion to Texas public schools also invigorated Buckley. Key benefits of the bill include proposing a $5,000 raise for teachers, full funding of pre-kindergarten and an estimated extra $890 spent on every Texan student.
"If you put a good teacher in front of young students, you get the best outcome," Buckley said.
Among those who asked Buckley questions was William Rosenberg of the Bell County Democrats, who asked about potential decriminalization of medical marijuana in the state in order to treat certain conditions and relieve so-called overflowing justice systems.
Buckley agreed that correctional facilities in the state are overburdened with drug charges, but exhibited caution about potentially harmful physical and social effects that legalizing marijuana would have.
"As far as the decriminalization goes, I'm going to have to take a look at that. We've got to be careful, though," Buckley said."But our jails, systems are bursting."
Buckley invited those in attendance to keep up with him on social media, on Facebook as "Brad Buckley for Texas," and Twitter with the @BradBuckleyDVM handle.
Larry Mitchell, Texas Realtor
Broker Associate, ABR, CRS, GRI, VLB
Click Here to See What Your Home is Worth
LMSells@aol.com
254 681 5115 Cell
Jim Wright Company Real Estate
Voted Best Real Estate Company in Central Texas