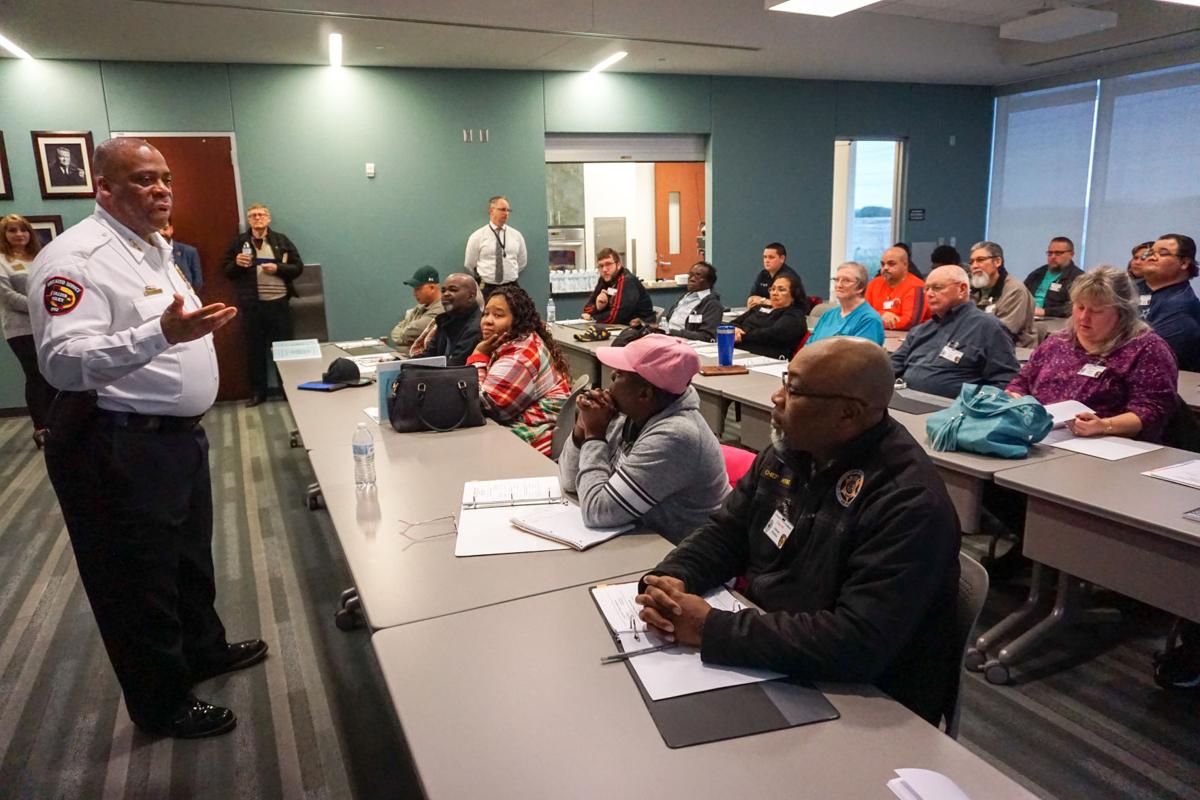 The Killeen Police Department has geared up for a community awareness initiative that is 23 years strong — the Killeen Citizens Police Academy, which stated on Monday.
Thirty-five people attended the opening class which will meet weekly for three hours until graduation on May 20.
The academy not only teaches participants about the responsibilities of the Killeen Police Department, it provides attendees with insight into the perhaps little-known daily challenges faced by Killeen officers.
"We firmly believe that involving the community in our policing will work and has worked," Killeen Police Chief Charles "Chuck" Kimble told this year's class on Monday night. "We want our community to see the stuff that we do and during this 12 weeks they will get that opportunity."
Citizens in the academy will learn about a variety of law enforcement-related topics, like patrolling, dispatch, investigations, SWAT, hostage negotiations and police dogs. Towards the end of the training, participants will have a chance to go on a four hour "ride along" with a Killeen police officer. There will also be training on firearm usage at the KPD range.
The department's crime prevention coordinator, Tammy Moseley said she hopes to challenge as well as educate participants.
"We want them to ask questions and to show them things they didn't know about the inner workings of the police department." Moseley said. "We've had numerous people over the years — some have been city employees, some have been citizens — and they talk about this to people throughout the community, saying how this class is really an eye opener and how it woke them up to the police department."
Special guest speakers at the Monday opening class included Killeen Mayor Jose Segarra, Killeen City Manager Ron Olson and the KPD recruiting office.
Segarra said that a resource like the Killeen Citizens Police Academy benefits the community by encouraging citizens and police officers to interact and foster a mutual exchange of information.
"We encourage everyone that participates in this class to stay involved, become ambassadors for our city," Segarra said, encouraging the participants to pass on what they learn to others.
Killeen resident Antonine Hopkins relocated to the area three years ago from Detroit, where he was a police officer.
"I'm taking this class because I want to get to know more about my city," he said. "I just opened up a business in the city and being prior law enforcement I just want to know what's offered here and I think this class can do that."
Larry Mitchell, Texas Realtor
Broker Associate, ABR, CRS, GRI, VLB
Click Here to See What Your Home is Worth
LMSells@aol.com
254 681 5115
Jim Wright Company Real Estate
Voted Best Real Estate Company in Central Texas