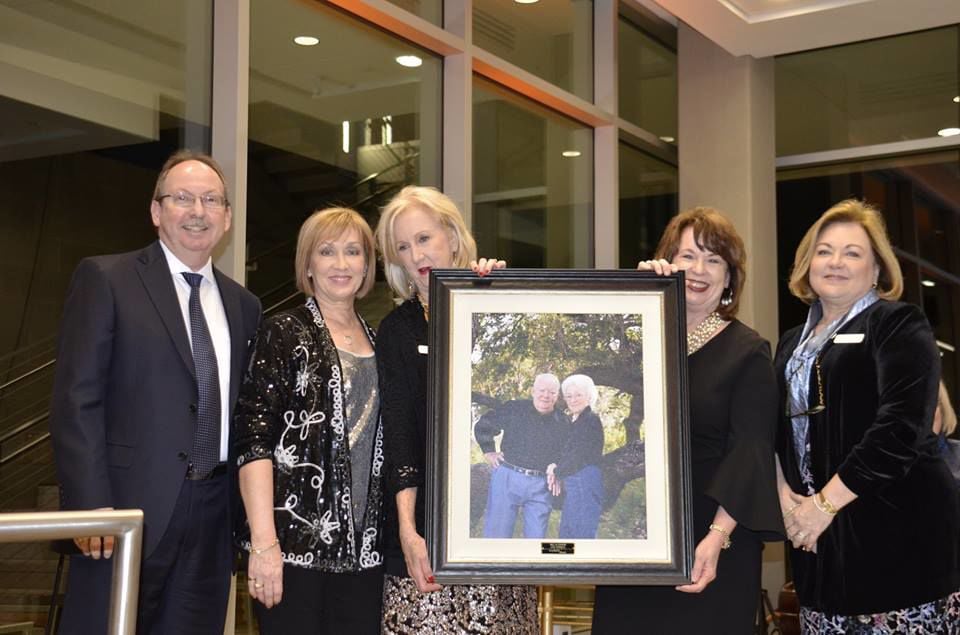 Two years before Texas A&M University-Central Texas opened its doors, officials at the Texas A&M University System made sure there would be a philanthropic entity in place that would raise money for student scholarships.
Fast forward 12 years, and the A&M-Central Texas Foundation is going strong. Funds the foundation raises annually provide hundreds of scholarships to academically promising students or those who need a little financial push to make everyday expenses like textbooks a little more affordable.
The foundation relies on a variety of events scheduled throughout the year and supported by members of the regional community.
Most recently, hundreds of guests gathered in the university's newest building, Heritage Hall, to recognize the extraordinary efforts that two Killeen families have had on the development of Texas A&M University-Central Texas, naming both "Warrior Legends."
Foundation board Chairman Ronald Stepp, praised the new "Warrior Legends," Bernie and Sis Beck Family and Bill and Jonnie Lou Yowell, describing them as leaders with character who refused to give up on the dream of public undergraduate and graduate degrees for the region.
Foundation board members expressed their gratitude to the late Bernie Beck, his wife, Eula "Sis" Beck and daughter Coleen Beck. and the late Bill Yowell, his wife, Jonnie Lou, and daughters, Debbie Farley and Sherrie Anderson.
Warrior Legends event chair and former two-term University Foundation board member, Mary Kliewer, thanked those in attendance for supporting the event, reminding guests that the vision of a regional university— the longtime goal of both Beck and Yowell — had become a reality, encouraging guests to pause to also remember the leadership of the late retired Gen. Robert Shoemaker and wife, Tuke, named in 2016 as the first recipients of "Warrior Legend" Award.
Following the warm regards expressed by the Foundation leadership, event chair and University leadership, and surrounded by friends and loved ones, both families thanked their friends for the kind remarks and heard words of congratulations offered by regional leaders including Congressman John Carter, former Congressman Chet Edwards, state Sen. Dawn Buckingham and state Rep. Brad Buckley.
As the evening concluded, A&M-Central Texas President, Dr. Marc Nigliazzo had one special announcement left.
"We are extremely pleased to share good news from The Texas A&M University System Board of Regents, who have approved our recommendation to rename Heritage Hall as The "Beck Family Heritage Hall" and the former Warrior Hall Multipurpose Room as the "Bill Yowell Conference Center."
In January, Texas A&M University Board of Regents also approved the naming of the Coleen Beck Maker's Space and the Bernie and Eula "Sis" Beck Legacy Wall.
Larry Mitchell, Texas Realtor
Broker Associate, ABR, CRS, GRI, VLB
Click Here to See What Your Home is Worth
LMSells@aol.com
254 681 5115 Cell
Click Here to See What Your Home is Worth
Jim Wright Company Real Estate
Voted Best Real Estate Company in Central Texas