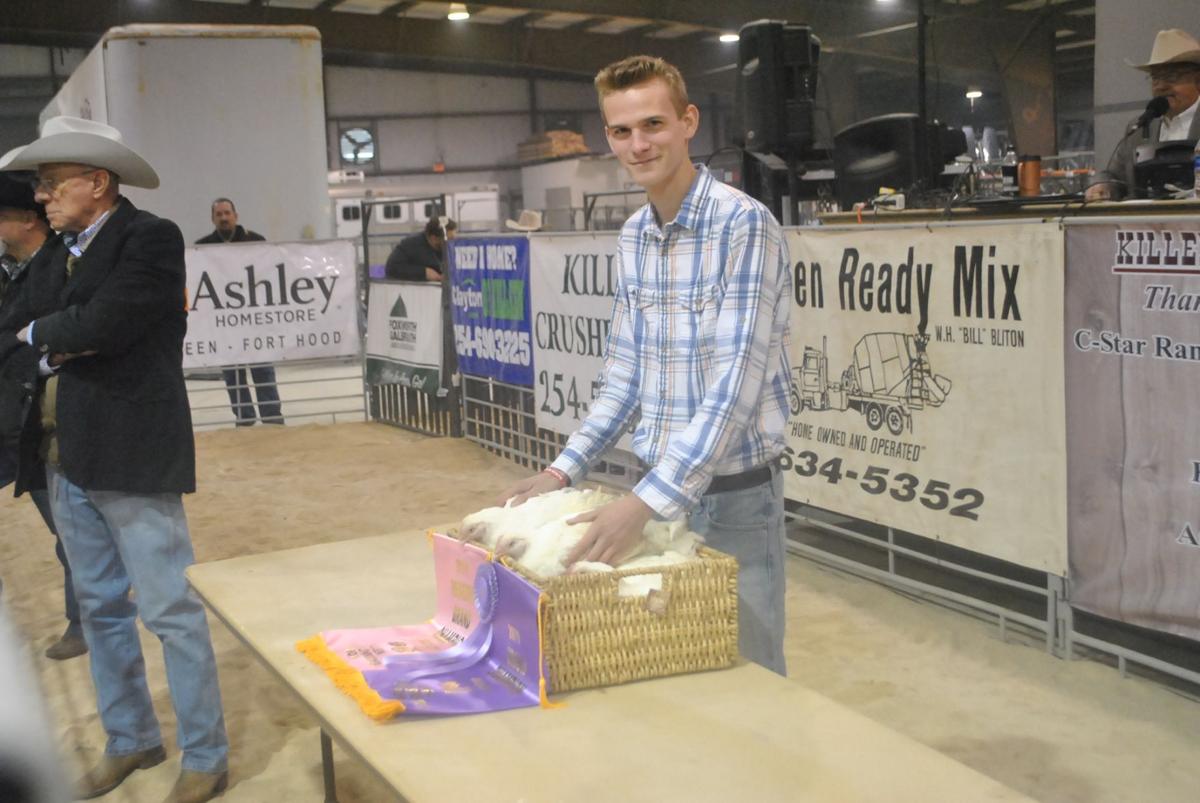 The final day of the 65th annual Killeen Junior Livestock Show at the Killeen Special Events center took place Saturday, as 180 students participated in the show with 80 different students able to sell at least one project at the show according to Keith Curb, the president of the organization.
The Killeen Junior Livestock Show has participants from third-grade students who are 8 years old all the way to seniors in high school.
The livestock show benefits students who are a part of Killeen Independent School District FFA or 4-H programs.
Jayson Bohac, a senior at Harker Heights High School and a member of Harker Heights FFA, shows chickens and rabbits at the livestock show and he had a chicken that won and Grand Champion and a second chicken that won Reserve Grand Champion this year.
The Grand Champion chicken sold for $2,300 and the Reserve Champion sold for $1,700.
Bohac has been showing animals for 10 years and this was his final livestock show, as he will graduate in May and head to Texas A&M University in the fall.
"I'm actually gonna miss this a lot," Bohac said. He said, "It's a team effort raising animals."
Bohac credited his dad, saying that his dad has been one of his biggest helps through the years.
Another student who saw great success at the show Saturday was Kenzie Pardon, who was born and raised in Killeen but is currently a junior at Salado High School.
Pardon shows lambs and she also won Grand Champion and Reserve Grand Champion with two different animals.
The Grand Champion lamb sold for $5,500 and the Reserve Champion lamb sold for $1,500. Pardon also walked away with Senior Showmanship recognition.
Pardon has been showing animals for nine years now and she said she likes "the friends you get to make."
She also said she loves spending the year raising her animals and feeding them in the morning and at night and training them to get ready for the show. She also said the money from the sale of her lambs will "help with my future."
Keith Curb has been involved with the Killeen Junior Livestock Show for many years and he says it helps kids learn how to manage money.
"The harder you work the better the prize money you can receive."
He also said, "I've seen it bond families closer together."
Curb not only talks about the livestock show but he is also fully invested in it with his own kids. He said that for the first two years that his kids participate he buys the project and all of the feed for the animals.
After that his kids use the money that they have earned to buy their next project and Curb buys the feed. "Some of the money goes into a college fund. Both of my sons have bought their first trucks with money from projects."
Local businesses are a huge part of the Killeen Junior Livestock Show. Curb said that there are anywhere from 300 to 325 local businesses that contribute in some way.
"We want to show the community the positive things these kids are doing," Curb said. "It's a good way to invest your money in the youth."
Karen Walinder, CEO of Mickey's Enterprises, frequently invests her time and money into the Killeen Junior Livestock Show.
"4H and FFA members showcase work ethic, which we need more of in this country," Walinder said. "It takes a lot of committment to get up and feed your animals every morning."
Walinder also said, "Participation in these organizations and the show influences positive character building of our youth and teaches them to be productive, responsible and useful citizens."
Larry Mitchell, Texas Realtor
Broker Associate, ABR, CRS, GRI, VLB
Click Here to See What Your Home is Worth
254 681 5115 Cell
LMSells@aol.com
Jim Wright Company Real Estate
Voted Best Real Estate Company in Central Texas