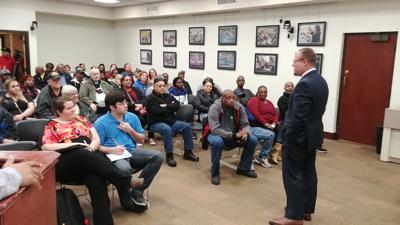 The Killeen Independent School District was met with a full house Thursday night in a new effort to fill its shortage of bus drivers.
Killeen ISD Deputy Superintendent Eric Penrod talked with more than 80 people at the Killeen ISD board room at 200 N. W.S. Young Drive interested in school bus driver jobs in the district. The event reached standing room only, officials say.
At the special bus driver CDL seminar, the district taught community members how they can get a CDL through Killeen ISD, as well as info on free training and a $1,000 bonus for becoming a KISD bus driver.
"We'll do everything we need to do to help them get the CDL and get into a very rewarding career," said KISD Chief Human Resources Officer Steve Cook.
The seminar provided details on what Killeen ISD offers, including annual incentives up to $3,320 and extra pay for trip driving.
The district currently seeks more than 70 bus drivers out of 288 available spots, according to Chief Communication Officer Terry Abbott. KISD has been short as many as 82 bus drivers in recent months.
Larry Mitchell, Texas Realtor
Broker Associate, ABR, CRS, GRI, VLB
Click Here to View What Your Home is Worth
LMSells@aol.com
254 681 5115 Cell
Jim Wright Company Real Estate
Voted Best Real Estate Company in Central Texas