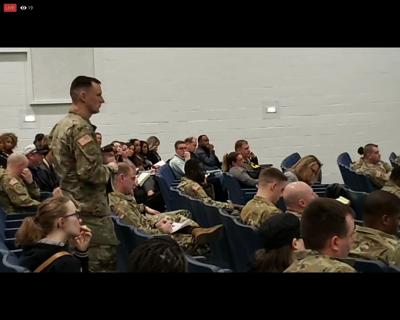 In response to unaddressed health and maintenance concerns, Fort Hood leadership is working on a plan to ensure all troops and their families have safe and quality living on post, according to the installation's garrison commander Monday during a community engagement broadcast live on Facebook from Howze Auditorium.
The garrison command team will coordinate visits to every soldier's or airman's on-post family housing within the next 30 days to document all issues the troops and their families may be having, Col. Henry "Hank" Perry told the soldiers and family members present during the meeting. The visit is "not an inspection," he stressed, but an opportunity to document and resolve issues from mold to broken air conditioning units.
"My job is to hold our partners (with Fort Hood Family Housing) accountable; to listen to you when we come around looking for trends to see what we can change," Perry said.
Military housing is under scrutiny nationally following a U.S. Senate committee hearing about the general dissatisfaction of military communities Feb. 14 in Washington, D.C. Secretary of the Army Mark T. Esper ordered a full investigation into civilian owned and operated post housing at all Army installations on Feb. 15 in response to the hearing.
While not at Monday's community meeting, III Corps and Fort Hood commander Lt. Gen. Paul E. Funk II had family housing very much on his mind during a luncheon for the Greater Killeen Chamber of Commerce.
"Someone said we have a housing problem on Fort Hood — and we do," Funk said. "We're not going to hide from that — we're going to take it head on like everything the Army does."
A town hall meeting was held Thursday to begin addressing concerns with family housing, followed by the first community engagement for those living in the various housing areas on post on Friday. Monday's community engagement was held for those living in the Patton, Wainwright, McNair and Chaffee housing areas. A community engagement is scheduled for 6 p.m. Feb. 26 at Howze Auditorium for residents of the Comanche I, II and III areas.
At Fort Hood, more than 20,000 soldiers, spouses and children live in post housing, not counting soldiers who live in the barracks. The Army is responsible for maintenance of barracks, which are the living quarters for single soldiers.
Fort Hood Family Housing is owned by Australian firm Lend Lease and is responsible for more than 5,500 homes on the installation. Mack Quinney, project director for Fort Hood Family Housing, briefed those in attendance on the number of maintenance requests they receive annually, how they are supposed to respond and addressed some of the issues brought up by the soldiers and their family members.
Post housing receives more than 5,000 emergency maintenance requests a year, which includes air conditioning or heaters not working in extreme temperatures and water leaks, Quinney said. Maintenance is required to respond to these emergencies within half an hour and fix issues within 24 hours. Urgent requests, such as a stove or toilet not working, account for more than 15,000 annual requests and must be responded to within 24 hours and completed within two days. Housing receives more than 47,000 calls for routine maintenance, which they are required to respond to within three days and complete within five.
One Army captain, who identified himself as a company commander, said he personally, and many of his soldiers, were not receiving assistance within those time frames. In one situation, it took four days for a response to an emergency request. An urgent request for another soldier took seven days for a response and yet another soldier waited 10 days for a response to an urgent request.
Another soldier said her air conditioning had been out since June 2018 and had still not been addressed. This was after already having to wait four months to move from a second-story location to a first floor because she was in the middle of a high-risk pregnancy.
Other issues reported included:
Pest control issues such as rodents and roaches
Kitchen appliances such as dish washing machines not working properly
Light switches causing a "buzzing" sound when flipped
Quinney said those situations were "completely unacceptable."
"It's painful for me to hear that we've let our soldiers down," he said, "but it's good for me to hear so we can fix it."
Quinney added that Fort Hood Family Housing currently has 200 maintenance personnel on staff, with roughly half of them working on change of occupancy maintenance daily. In anticipation of an influx of maintenance requests following the 100 percent visit to troops homes, Family Housing has been authorized to increase the number of employees in several areas, to include maintenance, quality control and the resident advocates who work directly with residents to resolve problems.
Larry Mitchell, Texas Realtor
Broker Associate, ABR, CRS, GRI, VLB
Click Here to See What Your Home is Worth
Jim Wright Company Real Estate
Voted Best Real Estate Company in Central Texas
LMSells@aol.com
254 681 5115 Cell