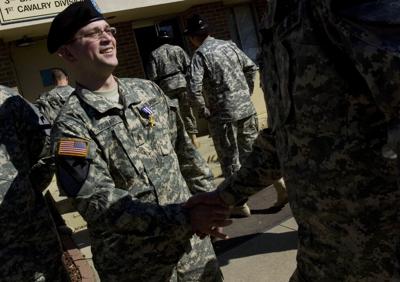 Retired Army Sgt. Daniel Cowart is set to receive the nation's second-highest award for valor, the Distinguished Service Cross, in a ceremony March 20 at Fort Hood's Cooper Field.
Cowart, originally from Orange, Texas, was a team leader for in 1st Platoon, Delta Company, 3rd Battalion, 8th Cavalry Regiment as the group conducted a combat patrol on May 13, 2007, near Samarra, Iraq.
A vehicle fitting the description of one used by insurgents placing roadside bombs approached the patrol's soldiers, part of the 1st Cavalry Division's 3rd Armored Brigade Combat Team "Greywolf." After a series of warnings, the suspected insurgents did not get out and Cowart, his lieutenant and a specialist got out of their vehicle. Two suspected insurgents got out of their vehicle and fired at the lieutenant. The driver got out, too, and tried to attack, but Cowart tackled him. The lieutenant started firing and Cowart and the driver began vicious hand-to-hand combat. Unknown to the soldiers, the driver Cowart was fighting wore an explosive vest, which detonated and killed the lieutenant and damaged Cowart's left leg.
Cowart was originally awarded the Silver Star Medal for his actions during a ceremony on Fort Hood in February 2008. The Distinguished Service Cross is the highest award a military branch can give for valor.
Those who wish to attend the 4:30 p.m. presentation March 20 are asked to make reservations no later than March 7 by calling Spc. William Dittmar at 254-287-7050.
Larry Mitchell, Texas Realtor
Broker Associate, ABR, CRS, GRI, VLB
Click Here to See What Your Home is Worth
Jim Wright Company Real Estate
Voted Best Real Estate Company in Central Texas
LMSells@aol.com
254 681 5115 Cell