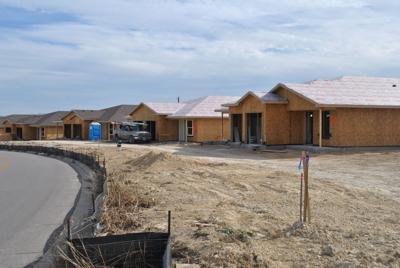 Home values in the Killeen-Temple area saw a 4.1 percent year-over-year increase in the fourth quarter last year, according to the Texas A&M Real Estate Center.
The average home price in the Killeen-Temple area was $160,000 in the last quarter of 2018, up from $154,000 the year before. There were 506 homes sold in the area in December 2018. That was down from a peak of 708 homes sold in June. The inventory count in December was 2.9 months.
The average home spent 75 days on the market, and 15.5 percent of homes were foreclosed upon.
Traditionally, area home values since 2000 have been mostly flat, Killeen Realtor Brian Adams said, as they just keep pace with inflation.
There is plenty of new construction, which generates an ample supply of inventory to keep up with the housing demand.
"We are doing a little better than inflation now, based on single-family home resales in the Fort Hood area (Killeen, Harker Heights, Copperas Cove, Nolanville, Kempner, Lampasas, Florence, Gatesville)," Adams said in an email.
Killeen survived the 2008 housing crash relatively unscathed because home values had not climbed anywhere nearly as dramatically as they had in places like Florida, California and Nevada.
Foreclosures are still prevalent in the area but dropping. The overwhelming majority of foreclosures — about 65 percent of them — are due to VA home loan foreclosures.
Buyers shouldn't count on appreciation when buying a home, according to Adams. But real estate is an inflation-resistant asset, and the Fort Hood area is keeping up with the national market, which is beating inflation soundly, he said.
The average price of a home in the Fort Hood area was $105,000 in 2009. The same figure in 2016 was $118,950.
The average home in Copperas Cove is valued at $98,000, according to Zillow.com's market overview. That is a 1.6 percent increase over the past year.
Zillow predicts the average price will rise 2.7 percent within the next year, bringing the average home value to $101,000. The average listing price of the homes on the market is about $162,075, which is up from $136,500 from 2017.
The average property value for a home in Nolanville is $132,800. Nolanville home values have gone up a slight 1.7 percent over the past year and Zillow predicts they will rise 2.6 percent within the next year.
The average list price per square foot in Nolanville is $111, which is higher than the Killeen metro average of $87.
The average property value in Gatesville is the lowest in the area at $90,700. That's still a 2.7 percent increase from last year, according to Zillow.
The Harker Heights average property value is $176,000, according to Zillow. That's a 3.7 percent increase from last year.
The Killeen city property tax rate has remained at 74.98 cents per $100 of taxable value assessed since 2011. It was raised to that rate from 69.5, which had been the rate since 2007.
That property tax rate is the second-highest in the area. Copperas Cove's rate is 79.79 cents, which is also unchanged from last year, while Harker Heights is unchanged at 67.7 cents and Belton's is 65.98 cents.
The area's average is well below that of the rest of the country, who after a 6.7 percent increase in property value from last year, now has an average of $207,600, according to Zillow.
That is projected to increase another 3.1 percent in the next year.
Larry Mitchell, Texas Realtor
Broker Associate, ABR, CRS, GRI, VLB
Click Here to See What Your Home is Worth
Jim Wright Company Real Estate
Voted Best Real Estate Company in Central Texas
LMSells@aol.com
254 681 5115 Cell