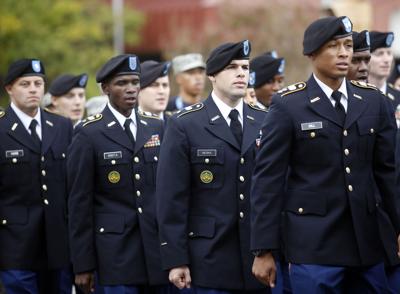 Two Texas A&M University-Central Texas online programs have ranked in the top 100 on the U.S. News and World Report survey of top college programs in the nation.
Masters of criminal justice program ranked 22nd and the masters of science in management and leadership program ranked 60th. The masters of business administration program just missed being in the Top 100, coming in at 101.
"The 2019 U.S. News and World Report Best Online Programs take into consideration a number of variables that represent programmatic excellence: student engagement, student excellence, expert opinion, faculty credentials and training, and student services and technologies," A&M-Central Texas spokeswoman Karen Clos said in a release.
"Not only did two of A&M-Central Texas programs rank in the Top 100, but one of them — criminal justice — broke into the top 25, moving up an impressive six notches from its 2018 ranking of 28th place," Clos said.
These three programs are not the only ones that are doing well at the university. A&M-Central Texas is also particularly proud of its ROTC program, which has graduated about 200 commissioned officers since the university was created in 2009. That's an average of nearly 20 new Army lieutenants every year.
A&M-Central Texas offers 25 undergraduate degrees and 17 graduate degrees and it continues to add new degrees.
"Just this year we added five new degrees; a BS in human performance and exercise physiology, an MA in higher education leadership, MA in teaching, MS in one planet leadership, and MA in English," Clos said.
A&M-Central Texas is an upper-level university, which means it transfers in students who have completed their general education core classes at Central Texas College or elsewhere. A&M-Central Texas works closely with CTC and considers the school a crucial partner, officials said.
"Our community college students follow a 'transfer guide' to ensure that the courses they take at the community college transfer into our curriculum and allow them to complete their undergraduate programs seamlessly," Clos said.
A&M-Central Texas's third building — Heritage Hall — was dedicated last month.
Heritage Hall is home to A&M-Central Texas' College of Arts and Sciences, Military Science Department and ROTC Cadet Learning Center, Student Organization, Exercise Physiology and Human Performances Labs and historical archives.
A&M-Central Texas, near the Killeen-Fort Hood Regional Airport, was established May 23, 2009, when then-Texas Gov. Rick Perry signed legislation establishing the university. It made A&M-Central Texas the 10th regional university of the The Texas A&M University System.
University officials are planning to mark the 10th anniversary in the Killeen area later this year.
Larry Mitchell, Texas Realtor
Broker Associate, ABR, CRS, GRI, VLB
Jim Wright Company Real Estate
Voted Best Real Estate Company in Central Texas
LMSells@aol.com
254 681 5115 Cell