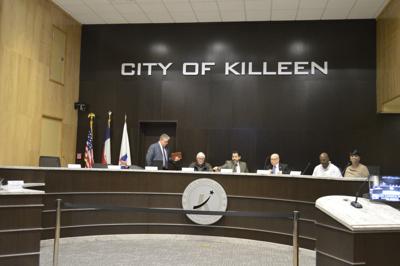 Following Killeen City Manager Ron Olson's second year in his position, the City Council reviewed his performance over the past year and gave him a rating of "Excellent" following a closed session Tuesday night.
Olson was appointed to the position of City Manager Feb. 7, 2017.
"My second year as City Manager has been progressive and productive," Olson said in a Wednesday night press release. "We focused largely on policy-making to establish operational standards and organizational consistency."
However, one council member chose not to participate in the rating of Olson Tuesday evening.
Councilman Gregory Johnson left the meeting before the council resumed in closed session for the discussion.
According to Mayor Jose Segarra, he did so without telling anyone, and it is unknown why.
"I do not know why Mr. Johnson does not participate when we do these evaluations, he left last night again as soon as we went into the closed session without telling anyone," Segarra said, adding he gave Johnson an unexcused absence.
Johnson did not immediately respond Wednesday to questions sent by the Herald.
When the City Council voted 6-1 to hire the city manager two years ago, Johnson was the only council member to vote against hiring Olson.
In a statement for the record read before the council at the time, Johnson said he believed Olson was not the man for the job, and the city had overspent on his contract that totals more than $250,000 annually in salary and benefits.
On Tuesday, Segarra praised Olson for his contributions to the progress of the city.
"Mr. Olson has had a tremendous impact on the City of Killeen through his vast knowledge and experience of city management," Segarra said. "His positive impact has been demonstrated though his policy implementations, hiring process of great employees, and his fiscal responsibility to manage and balance the budget while maintaining city service at full capacity."
Under Olson's second year of leadership, the city developed a balanced budget for Fiscal Year 2019, adopted a street maintenance fee and established a related fund, redeveloped the city website, and remodeled the council chambers, among other accomplishments.
"By his regular 100-day updates to the Council and his engagements with citizens he ensures that he is in line with the goals and vision of both the City Council and the City," Segarra said. "He has done a great job in making sure he is always focused on the big picture, both long term and short term, while paying attention to the daily details that will continue to move the city forward in a positive direction."
Council Member Shirley Fleming was also absent from Tuesday's meeting, but her absence was excused, the mayor said.
Larry Mitchell, Texas Realtor
Broker Associate, ABR, CRS, GRI, VLB
Jim Wright Company Real Estate Company
Voted Best Real Estate Company in Central Texas
LMSells@aol.com
254 681 5115 Cell