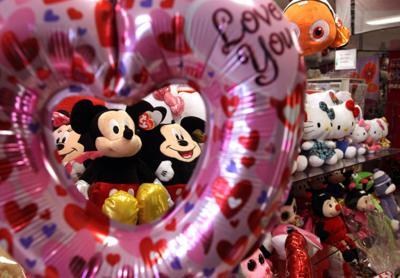 Valentine's Day is Feb. 14. Here's a list of some the things you and your sweetheart can do to show your love in the Killeen area:
Amy's Attic is sponsoring it's Community Through Cards event through Feb. 11 The public is invited to drop off premade or handmade cards or to create one at participating locations. Cards will be collected and distributed to local retirement communities and to area first responders. All ages are welcome to participate.
Quartets from The Texas Country Gentlemen Barbershop Chorus will be delivering singing Valentines in Temple, Waco, Killeen, and surrounding communities on Feb. 14. As well as supporting the chapter's operating expenses, funds raised go to support Wreaths for Vets charity at the Central Texas State Veterans Cemetery, and singing scholarships at Temple College and schools in the Temple, Belton and Killeen areas. Quartets deliver two songs, a silk rose and a Valentine card along with a smile. For more information, call 855-770-0497.
The 10th Annual Valentine's Family Dance will be held at the Harker Heights Activities Center from 2 to 4 p.m. on Feb. 9. There will be dancing, light snacks, and activities for the whole family. The theme this year is "Sea of Love." Admission is free. More information is available by calling 254-953-5465. The Activities Center is at 400 Indian Way in Harker Heights.
The Vineyard at Florence will have it's annual Valentine's Day dinner on Feb. 14 The four-course meal will cost $59, with an optional wine pairing for an additional $22. Reservations are required, and can be made by calling 512-572-7000.
The Youth Advisory Commission is holding its Special Needs Valentine's Dance at the Killeen Community Center on from 6 to 8 p.m. on Feb. 8. Admission is $5, which also includes free entry for a caregiver or family member. Refreshments and door prizes will be available. More information is available by calling 254-501-8889. The Community Center is at 2201 E. Veterans Memorial Blvd.
The 14th Annual Sweetheart's Ball will be held at the Courtyard by Marriott on Feb. 9 from 6:30 p.m. to midnight. The $40 admission fee covers dinner and dancing, while those who just want to attend the ball without eating dinner pay just $20. The event includes live music, a cash bar, door prizes, and a professional photographer taking Valentine's pictures. More information is available by calling 254-542-7981. Funds raised by the dance go to community organizations and youth scholarships. The Courtyard by Marriott is at 1721 East Central Texas Expressway in Killeen.
The Bell County Museum is holding a free Valentine's event from 11 a.m to 2 p.m. Feb. 9. Attendees can make Valentine's Day cards and fizzy heart art. The museum is located at 201 North Main Street in Belton.
The 3rd Annual Sweetheart Tea will be held at the Copperas Cove VFW on Feb. 9 There will be two seating times: from 10 a.m. to noon, and from 1 to 3 p.m. Admission is $20 for couples and $10 for singles. Parents are encouraged to attend with a son or daughter, as proper etiquette for a formal tea will be taught. There will be three separate tea servings along with various treats. All proceeds go to the Copperas Cove Library. The VFW is at 1506 Veterans Avenue in Copperas Cove.
Unwind! Tasting Room and Cafe will be holding "A Night of Magic" from 6 to 10 p.m. Feb. 14. Admission is $35 and includes a three-course meal with champagne. There will be live music and a performance by "The Master Hypnotist & Magician" from 7 to 9 p.m. Reservations are required and can be made by calling 254-238-7183 or by emailing unwindtexasstyle@yahoo.com. Unwind! is at 175 West Business 190 in Copperas Cove.
Have an event you'd like listed. Email the details and a contact number to news@kdhnews.com.
Larry Mitchell, Texas Realtor
Jim Wright Company Real Estate 
Voted Best Real Estate Company in Central Texas
LMSells@aol.com
254 681 5115 Cell